Anna Maria Island earned a TripAdvisor Travelers' Choice Award as one of the Top Ten Islands in the United States.
With miles upon miles of unspoiled beaches and activities to suit the whole family, the Bradenton Area offers authentic Florida at its best. Less than two hours from Orlando, and less than an hour from Tampa, and both offering direct flights from the UK, this is the slice of paradise that is just what you've been looking for in Florida.
Lying just to the west of Bradenton, Anna Maria Island boasts 7 miles of pristine white sandy beaches. With nothing over 3 storeys allowed on the island, you'll easily feel like you've escaped the hustle and bustle. Here, you'll find cosy family homes and apartments, beautifully decorated, on or near the beach, catering to all budgets. There are splendid oceanfront restaurants serving delicious fare throughout the day, with plenty of independent and authentic eateries to choose from including al-fresco options to catch those stunning sunsets. As with most people, you'll find it difficult to visit Anna Maria Island and not fall in love with the unspoiled vibe of the area.
There's plenty to do here but no pressure to do much at all. You can laze the days away on the beach or get out on the water and spot wild manatees; you can browse boutique shops and historic houses or find a pavement café and tuck into some delicious local crab. Families can escape the fast and furious theme parks and let their children explore in a safe environment. Excitement here comes from nature rather than artificial thrills – kids can see wild dolphins, fish for their own crabs and pick Florida oranges straight from the tree.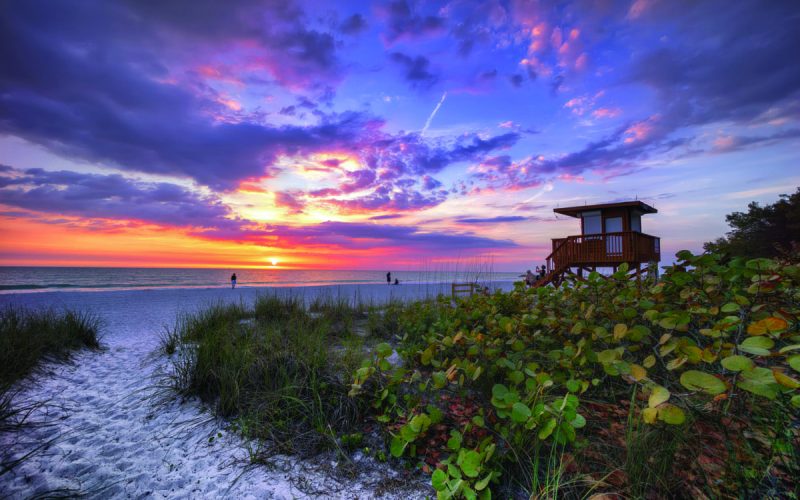 Get to know the real Florida
The warm waters of the Gulf of Mexico make the perfect playground for watersports enthusiasts. Take a paddleboard or a kayak and cast off from a pristine beach to search the clear waters of the area's nature preserves for manatees, dolphins and turtles, or feel the wind in your hair with some parasailing, windsurfing or jet skiing.
There's plenty to entertain away from the sea. Kids and adults love the TreeUmph! Adventure Course, a collection of ziplines, hanging nets, bungee swings and swinging logs making up a forest obstacle of fun. If that sounds too extreme then visit Mixon Fruit Farm for a tour of the citrus groves and a chance to meet the residents of its wildlife refuge.
Take a boat ride out to sea and watch the local bottlenose dolphins frolic between the gentle waves. Learn about these quirky creatures' habits and their social pods and enjoy beautiful views of Anna Maria Island and Longboat Key, before watching the famous Florida sun dip below a sandbar.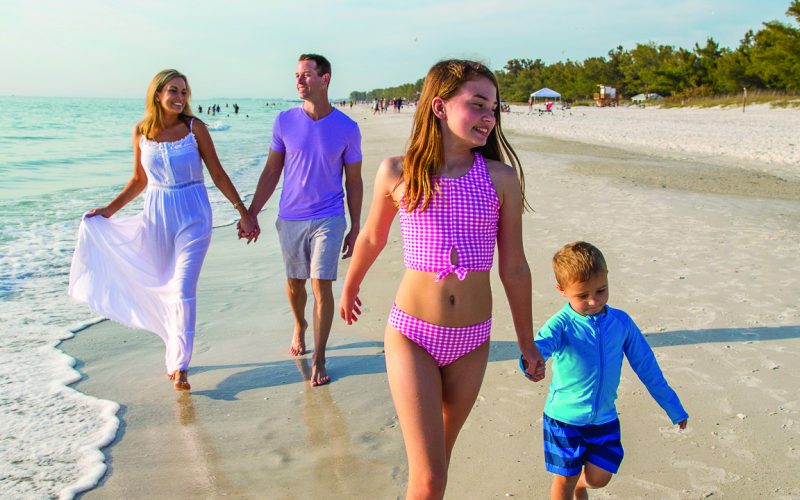 Some of the finest beaches in the USA
From wild and untamed shores to family hotspots with barbeque pits and picnic pavilions, there is a stretch of sand for everyone. Observe nesting birds at Bean Point on Anna Maria Island or search for pristine shells on Coquina Beach – which Conde Nast ranked as having some of the finest sand there is.
The beaches on Anna Maria Island are made up of a quartz crystal washed down from the Appalachian Mountains many years ago. The elements in the sand keep it wonderfully cool all year round, meaning no dashing to the sea to stop your feet from burning. The waters of the Gulf of Mexico tend to be warm, calm and crystal clear, a perfect natural playground for the whole family.
The Bishop Museum of Science and Nature
The Bishop is a museum of science and nature and the largest natural and cultural history museum on Florida's Gulf Coast. Home to fascinating exhibits, as well as a digital state of the art planetarium and the manatee rehabilitation centre, where you can get up close to the manatee which are rescued and brought back to health before being released back in to the wild. The Bishop has also recently opened an interactive section of the museum where kids can dig for fossils and look through the microscopes in the science shed.
"The Greenest Little Mainstreet in America" Florida's first LEED Platinum and Net Zero Energy Retail Park
On the quaint island of Anna Maria, history is being made with the first platinum LEED and Zero Net Energy Commercial Park. On Pine Avenue, a collection of Historic 1920's bungalows have been retrofitted into boutique shops and cafes with a green twist. The historical relics are completely powered by solar energy and geothermics.
If you're an art lover, the Bradenton Area is the place to visit! A national arts magazine has listed Bradenton as one of the nation's top 10 small cities for art. A stroll through our colourful streets has something for everyone, whether you're a foodie, a vinyl enthusiast or a quilt lover, you will discover a range of services that range from knife sharpening to yoga.
As Downtown Bradenton's showpiece, the Riverwalk serves as an outdoor gathering place and host for many diverse events and activities. The stretch is a mile and a half and is one of the longest public riverwalks in Florida. Running alongside the Manatee River, the Riverwalk includes a Family Fun Zone with a splash fountain and playgrounds, a great lawn for picnics, kayak launch, a day dock for boaters, a botanical walk, public artwork and the 400-seat Mosaic Amphitheater.
Eco Tourism and Agritourism
When our visitor's need a break from the sun and sand, there are several agri-tourism treasures for them to explore, offering entertainment and education for curious minds of all ages. All they need to do is head inland. Here are just a few of the many great places to start.
The Bradenton Area boasts not one, but two world-class wineries:
Bunker Hill Winery
Is a "GREEN" Environmentally Responsible Winery and offers complimentary tours and tastings of their handcrafted wines.
Manasota Vineyards
Has a 10-acre Muscadine vineyard and their wines have won more than 100 awards. Tours include your choice of an authentic Italian lunch and wine in a complimentary souvenir glass to take home.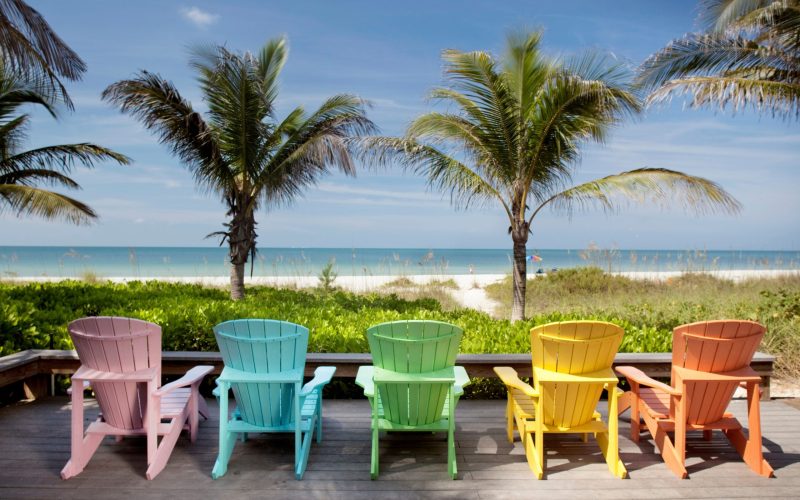 Dakin Dairy Farms
A visit to Dakin Dairy Farm is not only fun; it's good for you! The farm is one of only three dairy farms left in the Bradenton Area.
Mixon Fruit Farms 
Has always been famous for its plump, juicy citrus, its gift shop and Groveside Café. But now, visitors can take a ride on the Orange Blossom Express through the groves past the Children's Magical Maze and Wildlife Rescue, where the family will delight in an interactive show with rescued Florida animals, reptiles and birds. Our favorite thing about Mixons … their homemade orange swirl ice cream!
Robinson Nature Preserve
Robinson Nature Preserve in Bradenton is an exquisite nature preserve that is a popular destination for wildlife photography and bird watching, Tucked into the corner of northwest Bradenton, it includes 487 acres of coastal saltern, marsh, and mangrove habitat.