Find Your Island on the
The Beaches of Fort Myers and Sanibel
Visitors return year after year to Fort Myers Beach for its laid back holiday atmosphere, dazzlingly fine white sandy beaches which gently shelve into the ocean, great seafood and wildlife entertainment – in fact you'd think you are in the Caribbean.
The Beaches of Fort Myers & Sanibel in Southwest Florida is made up of 100 islands strung along the Gulf of Mexico. The area is renowned for its laid back barefoot holiday destinations each offering visitors a different story, but drawn together nature and the water. No visit to the Beaches of Fort Myers & Sanibel would be complete without discovering the islands and taking to the water and island hopping to experience the rich wildlife and flora that exists.
Think perpetual sunshine, white-sand beaches and turquoise waters. Think fashionable boutique and outlet shopping. Think of days spent spotting dolphins and searching for sea shells. Read a book, build a sandcastle or enjoy the warm gulf waters with the kids.
Imagine evenings spent enjoying delicious seafood and watching sunsets. From the moment you arrive, you'll feel connected to the people and unspoiled nature around you. Find your island on The Beaches of Fort Myers & Sanibel.
Top 5 Things to do in The Beaches of Fort Myers and Sanibel
1. Island Hopping – Florida Style
With 100 barrier islands to explore, the best way is to jump on a boat, whether paddle powered or escorted by a trusty captain, by getting on the water you will really experience The Beaches of Fort Myers & Sanibel. Many of the area's islands are uninhabited mangrove clusters while others take visitors' breath away with their beautiful beaches and historic homes and wonderful restaurants on islands such as Cabbage Key and laid back Gasparilla
2. Become one with Nature at the J.N. 'Ding' Darling National Wildlife Refuge
Lose yourself in the largest undeveloped mangrove eco system in the USA with miles of primordial wetlands. Watch flocks of birds migrate across land and sea and see alligators and manatees dance along the drivable wildlife trail. Birds of over 270 species are protected in this pristine habitat.
3. Watchable Wildlife
Anhigas dive, pelicans flap, herons pose, alligators cut through the water and manatees roll like giant grey jelly beans – animal lovers will find a lot here to enjoy. Watch dolphins when you hop on a seagoing charter with outfits like Tarpon Bay Explorers, or come to Sanibel Island and visit education centres like the Clinic for the Rehabilitation of Wildlife. The clinic serves as an animal hospital for birds, otters, sea turtles and even deer.
4. Paddle the Same Trails as the Calusa Indians
Head out on one of the largest, best executed blueways in the country – a network of water trails. Get geared up with one of the local outfitters at Estero River Outfitters and hit the teal spiderweb that is the Great Calusa Blueway, which provides access to 190 miles of pristine, waterbound goodness.
5. Shopping
A fantastic holiday favourite in the USA, it is something that The Beaches of Fort Myers & Sanibel excels at. Miromar Outlets in Estero has over 140 top designer stores offering discounts of up to 70%. Grab a coffee or lunch as you will be sure to spend the day on those bargains! www.miromaroutlets.com. On your way to or from Sanibel? SANIBEL OUTLETS is the perfect for a pre or post shopping experience. And if you are in the Bonita Springs area Coconut Point Mall offers a nice selection of high end brands in a very walkable, outdoor space.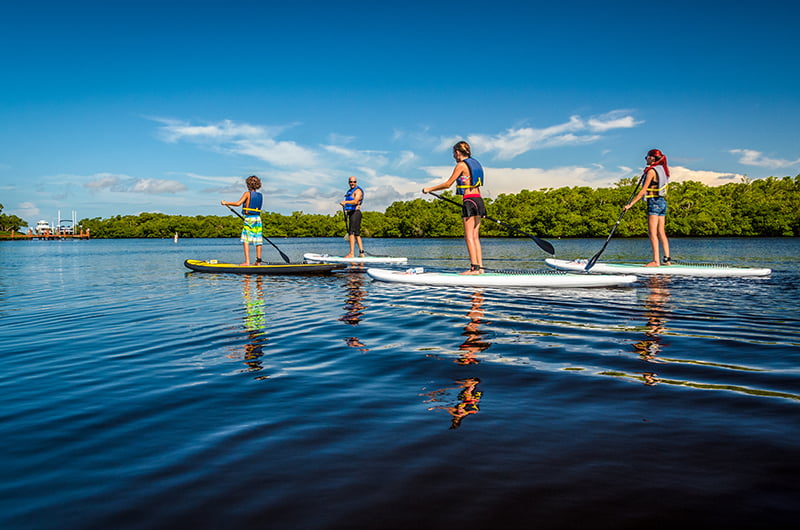 Hotels, cafes and restaurants line the wide white sand beach stretching for seven miles. You can sit back and enjoy the sun, walk along the beach and stop off at one of the beach bars and listen to live music, or try your hand at one of the many water sports available on the beach. There is even a sailing school available in several locations, which is great for relaxed family days out in sheltered and shallow waters, or for those looking for a little adrenaline on the Gulf.
There is plenty to enjoy away from the beach too: head to the seafood market and try local shrimp and crab delicacies; people watch near Times Square and San Carlos Blvd with their beach stores, restaurants and bars – this is the heart of Fort Myers Beach and a great place to visit during the day or evening. Close by you can also explore Matanzas Pass Preserve, a small nature reserve which leads you through a maze of mangroves to the water and stunning vistas.
Fort Myers Beach also offers a daily boat service to Key West on the Key West Express by catamaran, where you can watch the dolphins play in the wake of the boat as you make your way down to the Keys, with stunning sunsets on the return journey. Ideal for a day trip without all the driving, getting there is half the fun on this full service passenger ferry from port to port in three hours.
Fort Myers Beach is suitable for families and couples who are looking to be close to amenities and places of interest and of course a great beach. Connected closer to the mainland, ideal for active visitors planning to including a shopping day, exploring Downtown Fort Myers, beach time and evening live entertainment whilst watching the sunset all in one day.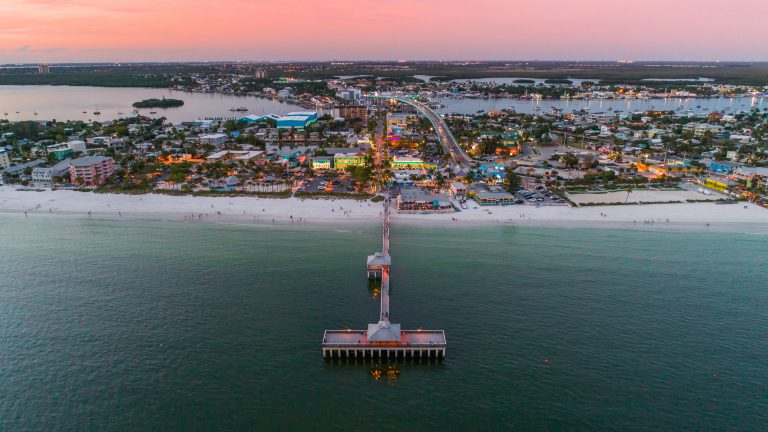 Sanibel Island, a barrier island stretching for 12 miles off the coast of Fort Myers, offers some the best beaches in the USA, left undisturbed by islanders who want to preserve the natural beauty of the region. There is an abundance of natural wonders on Sanibel including the largest Mangrove
ecosystem in the USA which gives home to an array of species such as Florida's state bird the Roseate Spoonbill, manatees, dolphins, alligators, sea otters, pelicans and more. The J.N. 'Ding' Darling National Wildlife Refuge can be visited by car, cycle, foot or kayak, or for a nominal fee you can take a guided trolley tour and spot the wildlife for yourself. Guided trolley tours depart twice daily except Fridays, the refuge remains closed on Fridays. Trolley tours cost $13 per person. Recommended to book in advance. Don't forget to stop in the Visitor Educational Center Admission: $5 per vehicle, $1 per pedestrian, $1 per bicycle.
The geography of the island is also unique, with the tides of the Gulf of Mexico washing up hundreds of shells each day. Shelling is a popular pastime and those who partake in gathering these beautiful shells develop what is fondly known as the 'Sanibel Stoop'. You can walk for miles discovering different shells at every turn. Of course, the best way to discover Sanibel is by bike – there are 25 miles of cycle paths designed to make it safe and easy to get around.
A visit to Sanibel Island is incomplete without getting out on the water to explore some of the nearby islands like Cabbage Key, Useppa Island, Boca Grande or Cayo Costa State Park there are over 100 of them). Most hotels have boats and kayaks to hire so you can explore the local wildlife, paddle through mangrove canopies and visit the neighbouring island. Any boat journey from Sanibel requires a camera – you'll be sure to see manatees and dolphins as you pass secluded beaches, private islands, lighthouses and spectacular waterfront homes. 
Did you know that there are no chain restaurants nor fast food restaurants on Sanibel. Sanibel offers an array of local restaurants and venues in keeping with its un-commercialised approach, creating a great ambience and relaxed culture, particularly when enjoying a drink and watching the sunset over the Gulf of Mexico. A few island classics are Island Cow, Lighthouse Café and Doc Fords.
Sanibel Island is suitable for families and couples looking for a relaxed holiday with options to explore the area an enjoy plenty of nature based activities.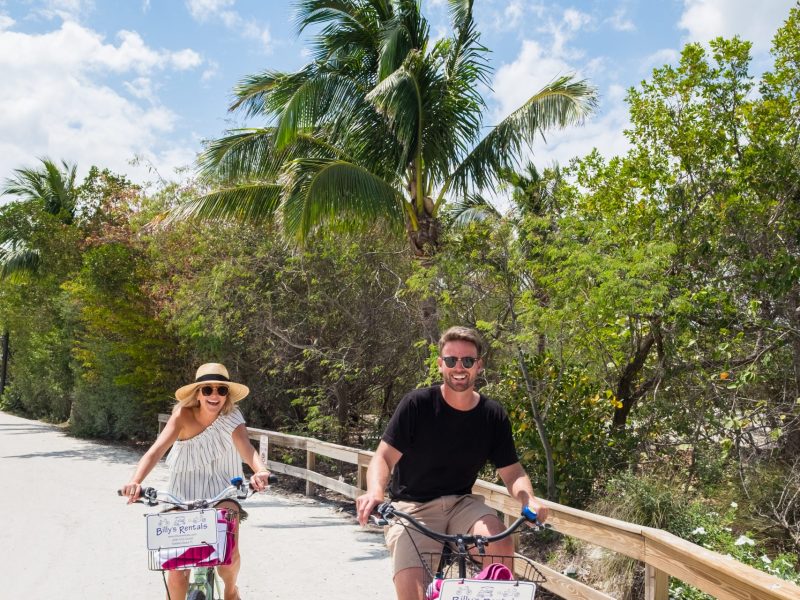 To the North of Fort Myers is Cape Coral, renowned as a waterfront wonderland with more canals than anywhere else in the world (over 400 miles of waterways) and also by birding enthusiasts a wide abundance of wildlife, having the largest population of burrowing owls in Florida. Exploring Four Mile Cove Ecological Preserve is a great way to see local wildlife with raised walkways through the mangroves giving visitors a fist hand experience of Florida's eco system.
A short drive from Fort Myers City and the historical winter homes of Thomas Edison and Henry Ford on the shores of the Caloosahatchee River, Cape Coral is ideal for those who want to be by the water and on the water. Many holiday home rentals in Cape Coral are waterside and include a boat as part of the home rental so you can navigate to a nearby beach or moor up at a waterside restaurant.
Cape Coral also boasts a stunning resort the Westin Cape Coral; a paradise for those looking to relax and be pampered after a long drive and after a fun filled Orlando visit. The Westin is surrounded by water with its own marina with a daily boat transfer to Fort Myers Beach for those looking for a more activities. With a kids club, golf course, spa and an array of eateries The Westin is a great place to chill in the sun. Cape Coral is suitable for families, groups & couples who are looking for a relaxed holiday on the waterfront setting. Cape Coral offers holiday home rentals directly onto the sand via canals that run through the area. Most properties have direct water access with boats included.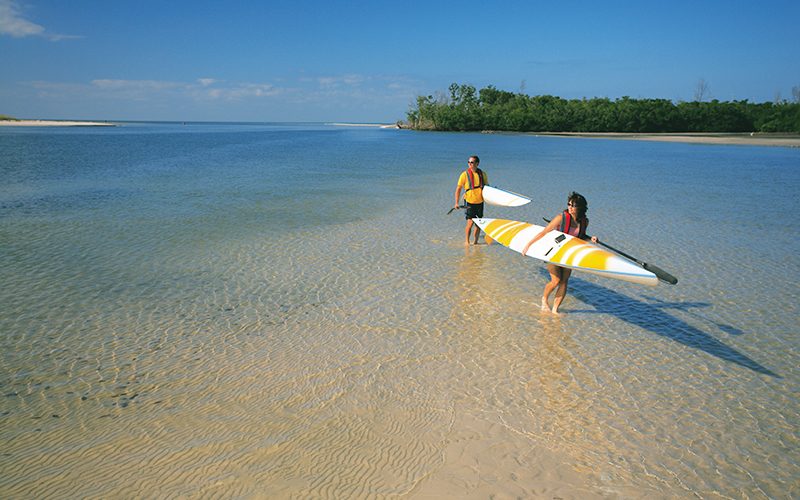 Just to the south of Fort Myers Bonita Springs looks out onto Estero Bay and the Gulf of Mexico. It is a great destination to explore nature parks on the beach with as Lover Key State Park made up of four barrier islands offering hiking and bicycling, a canoe launch, kayak and canoe rentals and miles of pristine beaches. The everglades are a short drive away and explored on own or as part of an organised tour on airboat.
Bonita Springs is suitable for families & couples who are looking for resort stay while being close to shops and attractions in a tranquil setting.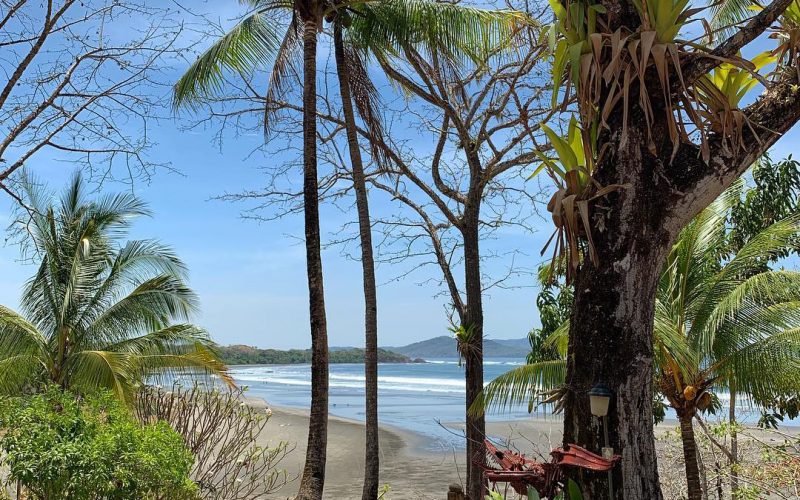 Captiva Island is the smaller sister island to Sanibel to the North which is famed for its sunset being perfectly positioned on the Gulf of Mexico. Captiva is renowned for its slow pace of life – a place where people come to relax. Sit on a beach, read a book, walk the 5 miles of pristine beach to South Seas, learn to fish, catch up with friends and family or pitch up to the Mucky Duck Pub on the beach and be amazed at the glorious sunset you will see – Captiva is a place to savour.
Artists have been drawn to Captiva because of its lifestyle and it is easy to see why – the beauty of the area is immense with island dotted around Pine Island sound, beautiful cactus and bougainvillea's adorn the drive through the island which takes you to the heart of Captiva, not quite a metropolis, but a wonderful collection of local cafes and restaurants dotted along the sand backed road where people watch the slow moving Captiva world go by.
Captiva is suitable for families, groups & couples who are looking for a quiet holiday nature on their doorstep. Being relatively remote by road (one hour to the mainland) means that it is the perfect destination for longer stays, island hopping and exploring the area.