Explore some of our Best Mexico Resorts
Wed 12th December – Tue 11th December – Mon 10th December – Sun 9th December – Sat 8th December
Fri 7th December – Thur 6th December – Wed 5th December – Tue 4th December

Tuesday 4th December
Some of our sales team, Shirin, Zac, Marvin & Charlie all set off in the early hours of Tuesday morning to London Gatwick, flying with Virgin Atlantic/Delta Air Lines. Eleven hours later and the team landed safely in the mild lands of Cancun, Mexico.
The team arrived at the amazing
Secrets The Vine Cancun
, an AAA Four Diamond Award-Winning Venue perfectly situated by the beautiful waters of the Caribbean Sea and bordered by the gorgeous sandy beaches of Cancun. Tired from their long-haul flight, landing at 6pm Mexico time they had dinner at the Sea Salt Grill, one of many dining options at the resort, serving fresh seafood.
Wednesday 5th December
The team got up nice and early for breakfast, and the view they woke up too is nothing short of remarkable!

Today started with a welcome presentation followed by a site inspection of the beautiful Secrets The Vine Cancun Resort where they got to experience the Preferred Club! The Preferred Club at Secrets offer various additional amenities & services including: private preferrered club lounge, concierge service, private swimming pool, daily continental breakfast service in the lounge and so much more.
[widgetkit id=230]
After their busy morning the team were unfortunatley set back due to the weather. They were due to go on a private catamaran excursion where they were going to spend four hours cruising down the Cancun Hotel Zone coast. This would have included an open bar and a guided snorkelling tour, but due to the weather this had to be cancelled. Instead, the team enjoyed a chilled day around the pool which probably was for the best after their long-haul flight just a mere 18 hours prior.
After a gruesome day at the office, it was fast approaching dinner-time, and tonight it was going to be a Mexican Themed Night, Secrets the Vine Cancun have themed nights and on this Wednesday it just happened to be Viva Mexico!
Later on, it was time to party! The group set out for the the famous Coco Bongo night club! Now, Coco Bongo isn't your traditional, DJ-controlled nightclub, a typical night at Coco Bongo involves projected videos, balloons, soap bubbles and confetti!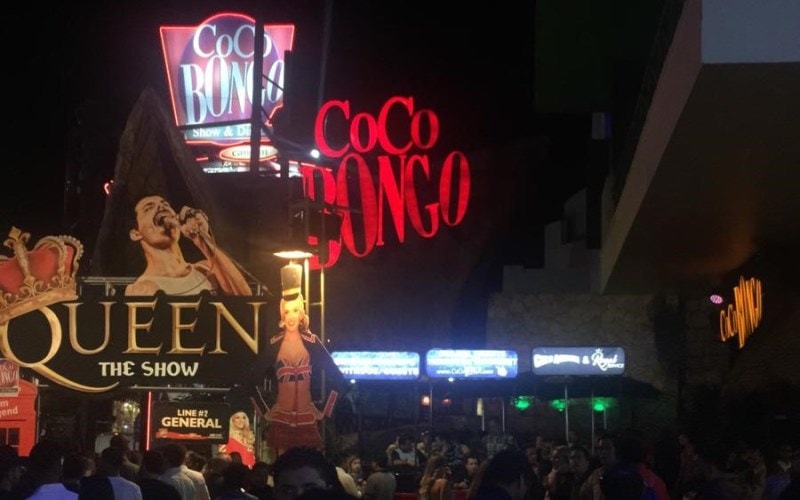 After partying at Coco Bongo it was time to check out so the group had to battle a few sore heads and be up nice and early ready for the next adventure! The team were being transferred to the not so far, fortunately for some,
Dreams Riviera Cancun Resort & Spa
. Another AAA Four Diamond award-winning venue which boasts a tropical paradise of lush gardens and a fabulous location close to the exciting Cancun and Playa del Carmen where they had a site inspection of the resort.
[widgetkit id=229]
Dreams Playa Mujeres Golf & Spa Resort & Secrets Playa Mujeres Golf & Spa Resort
After the inspection was over, they were transferred to where they would be staying for the night, Dreams Playa Mujeres Golf & Spa Resort & Secrets Playa Mujeres Golf & Spa Resort. Both of these remarkable resorts neighbour each other and guests who are staying at Dreams have full access into adults only Secrets Playa Mujeres, giving them a choice of 20 restaurants and 19 bars throughout their stay. The Dreams Playa Mujeres Golf & Spa Resort is an all-new venue set along a gorgeous stretch of private beach.
Our team had a laid back night to recharge their batteries and were free to dine at their leisure. They were spoilt for choice with restaurants such as Gaucho Grill – a Brazilian Rodizio, Mezes – Mediterranean & Moroccan, Maris – Fresh Seafood, Nikkei – Peruvian & Japanese fusion, Himitsu- Oriental & Sushi, Portofino – Italian… take your pick team!
Friday 7th December – Breathless Riviera Cancun Resort & Spa
On the Friday the team had an early check out, then they had a full tour of Dreams Playa Mujeres Golf & Spa Resort & Secrets Playa Mujeres Golf & Spa Resort. After that the team were transferred to the energetic Breathless Riviera Cancun Resort & Spa. Boasting a modern, adult only resort nestled between the Caribbean Sea and the Lagoon of Bahia Petempich. This vibrant venue boasts fun, radiance and excitement with all the exclusive amenities of the Unlimited-Luxury® experience. With 526 ultra-chic suites, state of the art technology and a stylish design this resort takes luxury and service to the next level.
After a superb tour of Breathless Riviera Cancun Resort & Spa, then the fun began! It was party time for our team, there's a unique array of entertainment options at the Breathless Riviera Cancun Resort & Spa; these include lively nightly outdoor entertainment such as weekly parties and shows, live music and dancing, Gala parties and monthly themed parties too!
As you can see from the following pictures, it was plenty of fun… Zac for the last time, leave the girls alone!
[widgetkit id=232]
Zoëtry Paraiso de la Bonita Riviera Maya is part of an exquisite group of resorts offering the best service and amenities imaginable for a tropical stay in paradise. From exclusive butler suites to dining beachside, it is all here for a relaxing stay with endless options to keep you busy. Located on the fabulous Riviera Maya, from the moment you leave the airport in your personalized chauffeured transfer to the minute you step foot at the resort, you know you made the right choice for a stay at this magnificent destination.
[widgetkit id=233]
With a superb location on its own stretch of private seashore, Secrets Maroma Beach Riviera Cancun is a luxurious, AAA, Five Diamond adult's only resort with spacious well-appointed accommodations, amazingly friendly staff and an array of amenities and recreational activities for discerning holidaymakers to enjoy. Kick back and relax beside the expansive infinity pool, head to the beach and enjoy the complimentary water sports, tee it up for 18 holes of golf on the house at the Nick Price designed Grand Coral Riviera Maya Golf Courses, take in a show at the theatre and finish the night off in Desires Music Lounge.
The Secrets Silversands Riviera Cancun Resort is situated along the Yucatan Peninsula just 12 miles south of Cancun International Airport. This AAA Four Diamond award-winning venue boasts an ideal beachfront escape; surrounded by glistening waters and an expansive 43,000 sq ft of pool areas providing the perfect adults-only escape with all the amenities of the Unlimited-Luxury® experience.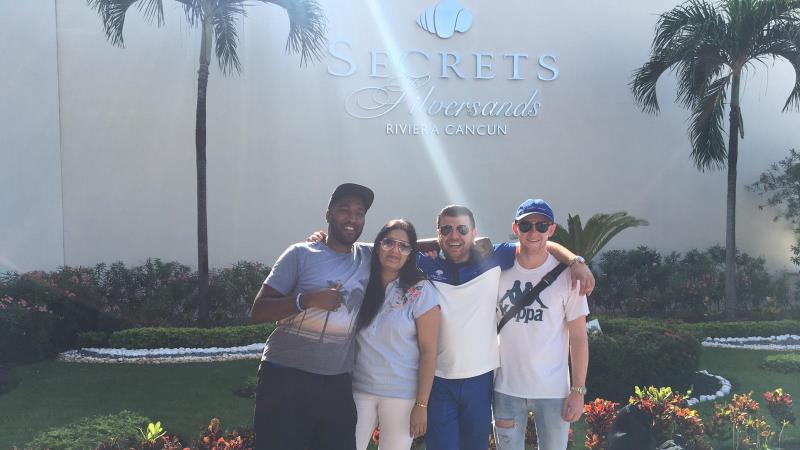 Secrets Silversands Riviera Cancun would be where the team made camp that night, and once checked in, they were left with some free time to either explore or simply chill by the pool for the rest of the afternoon.
Evening soon approached and the guys and girls had the treat of a cocktail reception and a private dinner at the Barracuda Bar. A beautiful open-air bar perched just off the beach with a beautiful view of the ocean.

The team were given a day of leisure after an extremely busy week they were able to explore the resort or surrounding area. Some of the team decided to visit Tulum Mayan Ruins which is considered by many as the most beautiful of the Mayan Ruins sites around Cancun, it is small but exquisitely poised on the fifteen-meter-high cliffs above the azure waters of the Caribbean Sea. Tulum also has one of the most beautiful beaches in the Caribbean.

Here's a picture of our travelplanners Zac & Marvin trying to fit in with the locals: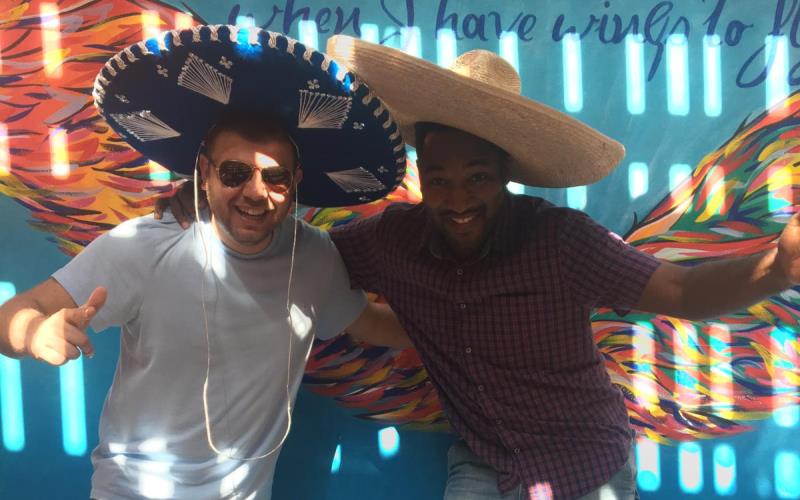 Shirin, Zac, Marvin and Charlie would like to say a huge thank you to
Megan, Lauren & Sarah from AMResorts for putting together this fantastic trip.