Fort Worth, the City of Cowboys & Culture is the 16th-largest city in the United States and part of the No. 1 tourist destination in the Lone Star State, Texas, welcoming 8.8 million visitors annually. Fort Worth is comprised of seven primary entertainment districts each offering distinct dining, shopping, entertainment and cultural amenities. In only a few days you can enjoy a range of experiences: from NASCAR racing to rodeos, world-class museums to cowboy cuisine, boutique shopping to a Top 5 zoo, biking to horseback riding. Explore each of our unique districts to see what Fort Worth has to offer you.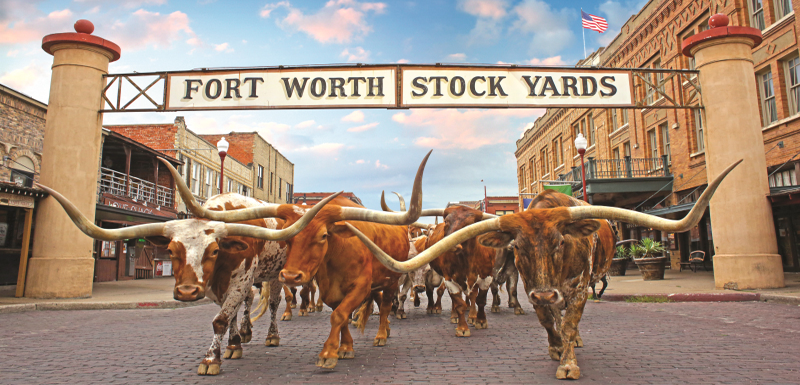 Bright lights, big personalities, shiny cars… In many ways, Dallas is the belle of the Texas ball. From JR Ewing and the TV show Dallas to the Dallas Cowboys and their cheerleaders, this city has made a deep imprint on American popular culture. An upscale ethos makes for an amazing dining scene (you can tell which place is hot by the caliber of cars the valet parks out front). The museums are not only excellent, but unique – history buffs should not miss the memorials to former president John F Kennedy. And one of the most impressive additions to Dallas' cultural landscape in recent years is the 68-acre Arts District, now one of the largest in the country.
By entering this competition, you will be in with a chance of winning the following:

Fort Worth Prize Details
3 nights stay at the Omni Fort Worth Hotel
2 Fort Worth Ale Trail Passports
2 tickets to the Stockyards Championship Rodeo
2 Fort Worth Museum Passes
2 tickets to Billy Bob's Texas
2 tickets to Fort Worth Concerts

(venues and shows to be determined based on the dates of the trip)

Lunch for two at HEIM BBQ
Lunch for two at Woodshed Smokehouse
Lunch for two at Taco Heads
Dinner for two at Reata Restaurant
Dinner for two at Clay Pigeon Restaurant
Dinner for two at Ellerbe Fine Foods
$250 Shopping Card
Dallas Prize Details
2 nights stay in a Dallas Hotel
2 tickets to the Bomb Factory

(music venue)

2 Dallas City Passes

(Includes access to 4 of the following attractions: Perot Museum of Nature & Science, Reunion Tower GeO-Deck, The Sixth Floor Museum or Dallas Zoo, George W. Bush Library & Museum or Dallas Arboretum & Botanical Garden)

Visit Fort Worth is celebrating its 2nd annual Texas Music Takeover in London by bringing some of Fort Worth's finest country music artists including Pat Green, Luke Wade, Joey Green, Austin Allsup and more. This 5-day Texan musical adventure will take place in some of the best live music venues around London!

Click here to view some of our wonderful offers to Fort Worth, Dallas & Texas