The treasures of Tampa Bay are vast – from its Cuban heritage that is still vibrant today, its amazing food scene, serene rooftop cocktail bars, exhilarating Busch Gardens theme park, pedestrianised riverwalk with free streetcar, museums and performance venues and shopping of course. Tampa Bay really does have it all…..
Tampa Bay is recognized as a culinary gem in the U.S. 3 Tampa Restaurants just awarded Michelin stars - only 4 were awarded in Florida this year
In 2022, Tampa Bay earned inclusion in the first-ever Michelin guide to Florida, with a total of 19 Tampa Bay recommendations. As Tampa Bay is in riveting development, new restaurants are opening regularly, adding to the already rich culinary scene.
Here are three authentic culinary experiences you must try in Tampa Bay:
#1 Among the Michelin-recommended restaurants is the Columbia restaurant, Florida's oldest restaurant from 1905 and the largest Spanish restaurant in the world!
#2 Armature Works at the Heights – at the Northern end of the Tampa Bay Riverwalk, hosts a dozen dining options, among them the Michelin recommended Steelbach and Oak & Ola restaurants.
#3 Sparkman Wharf at the South end of the Riverwalk hosts Noble Rice restaurant, as well as new-age dining places creatively located in refurbished shipping containers and headed by top area chefs such as Lunch Lady and JoDog.
TRANSPORT IN TAMPA BAY :
NO NEED TO DRIVE!
In contrast to most other places in the U.S. Tampa Bay is very pedestrian-friendly, which makes life much easier, and not least, cozier! Who wouldn't want to avoid the struggle of getting everyone in the car and seatbelts fastened for every small excursion or restaurant visit – especially if traveling with kids? Not to mention the stress of having to drive home from nightlife? Luckily, Tampa Bay has a fantastic infrastructure and modes of transport which makes it a pleasure to move around.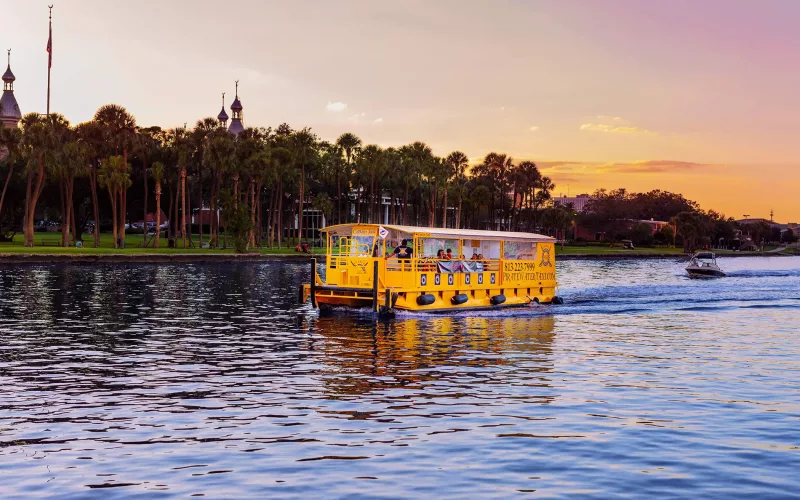 Here are three of the best transportation options in Tampa Bay:
#1 Exploring the 4.2 kilometers long Tampa Bay Riverwalk along the Hillsborough River allows for a leisurely run, bike-ride, or simply walking (or skating!) along while enjoying the views of the river, the absence of cars and traffic, and not least the many attractions and restaurants located along the riverwalk.
#2 In Tampa Bay you can jump on the free TECO Line Streetcar that winds through the streets from downtown to Channel district, home of the Port of Tampa Cruise Terminals, all the way to historical Ybor City! Convenient and comfortable way to see Tampa Bay – 7 days a week and with 11 stops along its route. The streetcar is a replica of the historical streetcars that used to be a part of everyday life in Tampa Bay.
#3 Pirate Water Taxis have 16 stops in Downtown, the Channel side District and Davis Island, and is a fun and unique way to get around, and it is possible to buy hop-on-hop-off style day-passes.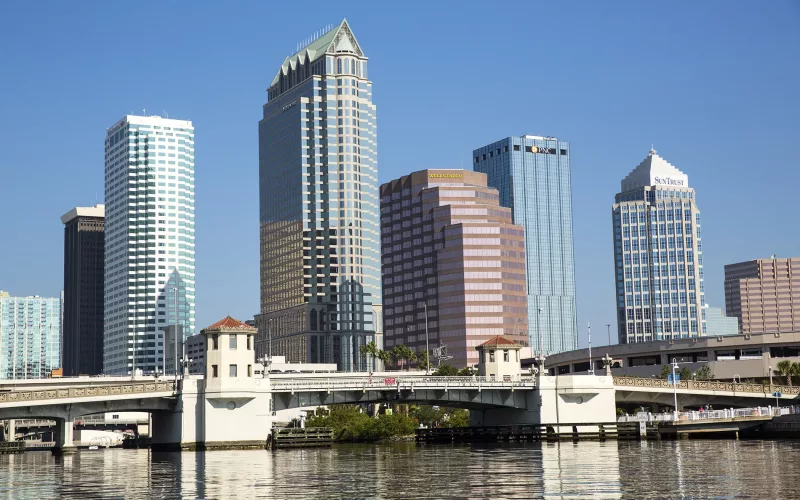 Tampa Bay has experienced a hotel Boom in recent years, with over 2500 rooms added in the past 2 years.
If you want to have a unique experience in Tampa Bay, we recommend these 3 options:
#1 In October 2022 the first 5-star hotel in Tampa Bay opened. The Tampa EDITION is the name of this gem of a hotel with luxury amenities and seven unique dining concepts under the guidance of MICHELIN-starred chef John Fraser.
#2 Glamping is the perfect way to get into nature without sacrificing comfort. Timberline Glamping company offers hotel style beds, and luxurious conditions, as do the Comfy Camping Glamping Rentals.
#3 The Tampa Bay Treasure Collection hotels brings together a dozen stylish, modern hotels, each with its own carefully curated style and concept. With locations from downtown to historic Ybor City, the Treasure Collection hotels are sure to please you.
THRILLING ATTRACTIONS IN TAMPA BAY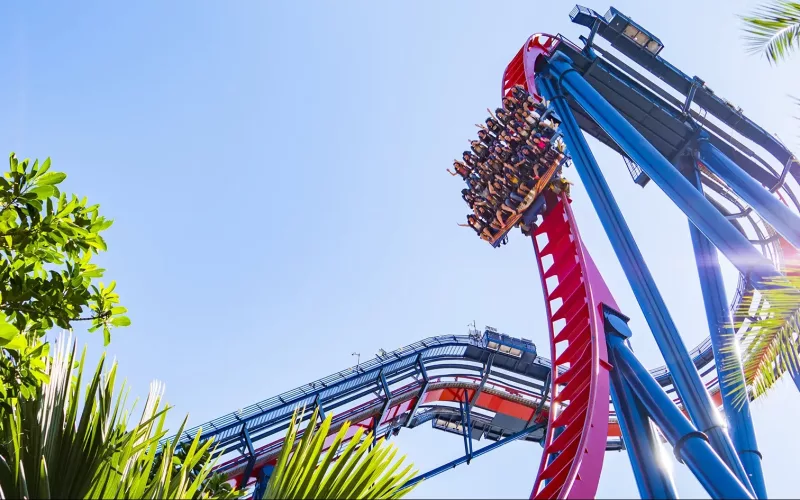 Tampa Bay is family-friendly – as mentioned, the infrastructure is a big part of the reasoning for this, but in addition, Tampa Bay boasts a lot of attractions and activities for the entire family to enjoy together. As an extra bonus, it's possible to save money by purchasing the Tampa City Pass and Riverwalk Attraction Pass, which gives access to a wide range of attractions, and free access for the smallest children in most places (under 1, 2 or 3 years of age depending on the attraction).
Here are our suggestions for the three most exciting family friendly attractions in Tampa Bay:
#1 Glazer Children's Museum is a fantastic home to permanent and traveling exhibitions dedicated to the creation of learning moments for children and families. Inspirational, innovative, playful and creative, your kids are going to love this interactive museum.
#2 Busch Gardens Tampa Bay is the ultimate family adventure – an amusement park with lots of rides, and one of the best Zoos in the country, that boasts over 12.000 animals. Just across the street from Busch Gardens Tampa Bay you'll find Adventure Island, a waterpark with unmatched levels of thrilling rides. Both are worth a visit.
#3 The Florida Aquarium is located by the waterfront and just by one of the TECO streetcar stops. Rated one of the best aquariums in the US, here you can meet over 8000 animals from Florida and beyond. For example, you can meet otters, alligators, free-flying birds and many more, in the 18.500 square meter air-conditioned aquarium-building. children can play in the splash park while parents enjoy a cold drink in the bar next to it.
CULTURAL GETAWAYS IN TAMPA BAY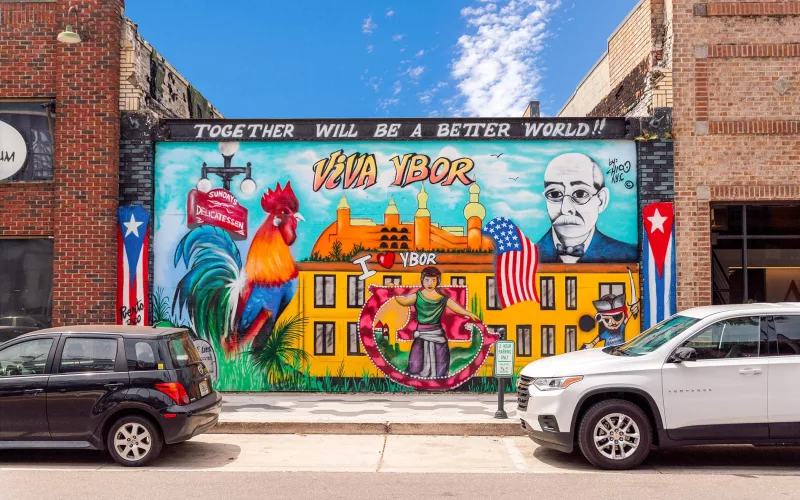 Without kids, there is also plenty to do in Tampa Bay. The cultural offers are overwhelming and there is so much to learn about Tampa's rich history – involving both cigars and pirates.
#1 Located in the heart of downtown Tampa, next to the Curtis Hixon Waterfront Park and Tampa's Riverwalk, the Tampa Museum of Art is a beautiful institution inside and out, worth a visit. Exhibitions celebrate Ancient, Modern and contemporary art, as well as sculpture, photography, painting, and new media, in addition, the Tampa Museum of Art is both a cultural institution and a community museum dedicated to celebrating the diversity of its home city.
#2 Tampa Bay History Center will teach you about the rich history of Ybor City as the cigar-manufacturing capital of the world in the 20th century, about the Buccaneer pirates that constructed a safe-haven in Tampa Bay, and many other fun facts about the history of Tampa.
#3 Iconic Tampa Theatre from 1926 has been extensively renovated and is a fantastic setting to experience both classic and contemporary films, as well as concerts under the stars.
ADVENTURE UNFORGETTABLY
IN TAMPA BAY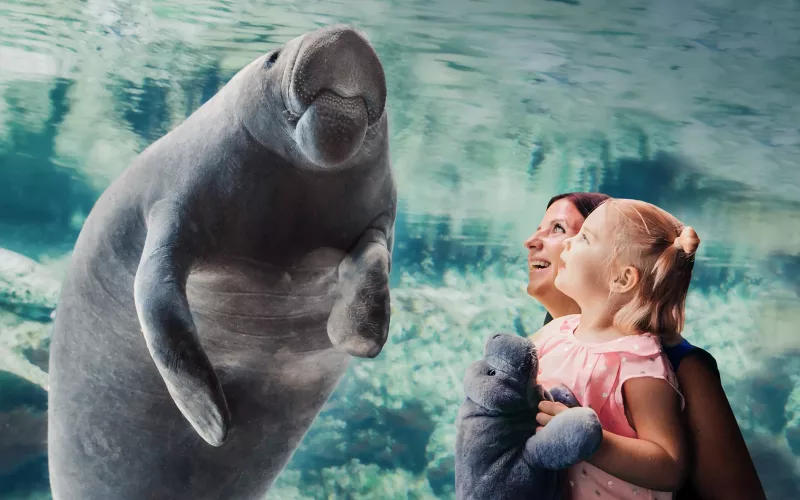 Tampa Bay is also unique in the way that, apart from being a culturally pulsating hub, there are also many incentives to protect the environment and promote a more balanced lifestyle in harmony with nature. This ideology has spilled into tourism and Tampa Bay now offers many eco-tourism incentives, that aim for a positive impact of tourism on the environment and of the environment on visitors through education.
Here are 3 interesting eco-tourism activities in Tampa Bay:
#1 ZooTampa at Lowry Park are leaders in the rescue, rehabilitation and release of Florida species such as the majestic manatees, the critically endangered Florida panthers and the iridescent indigo snakes. Visiting ZooTampa is worth it just to see the many animals but knowing that you are simultaneously supporting their good work for the conservation of Florida wildlife makes it even better!
#2 Manatee Viewing Center This is a quite rare phenomenon, as the clean, warm discharge water of Tampa Electric has become a migrating spot for Manatees to enjoy the warm waters every year, prompting them to build the viewing center for the greater public. You can visit the Manatee Viewing Center and see these gentle animals from November 1st to April 15th.
#3 Hillsborough River State Park Just minutes from downtown Tampa, this diverse park offers a refuge from city life with seven miles of nature trails and wonderful wildlife viewing.
Come visit a breathtaking oasis of natural and historical significance. Stroll along the river rapids, enjoy camping, explore historic structures, share a picnic or view scenic landscapes.
Hillsborough River State Park provides many opportunities for outdoor recreation. From fishing in the Hillsborough River to hiking or biking on the trails or picnicking under pavilions built in the 1930s, there is something for everyone here.
Besides enjoying a living history lesson, visitors can view Class II river rapids, which are rare in Florida, and canoe or kayak along the scenic Hillsborough River.
Camping is another popular activity at Hillsborough River State Park, just a short distance from the bustling city of Tampa.
EXPLORE WILDLY IN TAMPA BAY
Naturally, the landscape in Tampa Bay allows for many sporty activities as well. Here are 5 of the most fun outdoor activities in Tampa Bay:
#1 Kayaking – Rental is possible from Urban Kai at Armature Works at one end of the Tampa Bay Riverwalk, or from Riverwalk Rentals. Both kayaking and Stand-Up Paddling are amazing ways of viewing the Tampa Bay Skyline and attractions from the water. If you venture just a few minutes from downtown Tampa to Hillsborough River State Park, you have the option of kayaking or canoeing Florida's only Class 2 rapids and enjoy the scenic landscape of the park.
#2 Fishing – As Florida is well-known for its unbelievable sport fishing, due to the proximity to the Gulf of Mexico and the wide variety of species available year-round, fishing in the Tampa Bay area is a great option no matter what time of year you plan your visit.
#3 Hiking – There are several Nature parks in the Tampa Bay area that offer beautiful hiking trails. Visit the Alafia River State Park, the Hillsborough River State Park, Morris Bridge Wilderness Park, John B. Sergeant Sr. Memorial Wilderness Park, Upper Tampa Bay Park, or what about taking a ferry to Caladesi Island State Park and discover one of the state's last undeveloped barrier islands? There, you'll find a beautiful 4.8km beach and lots of wildlife – as well as a wooden inland hiking trail. The perfect getaway spot to get some exercise surrounded by beautiful nature.
#4 Ziplining – Experience the thrill of ziplining a total of 914 meters, while overlooking the wildlife and beautiful nature of Bayou Wilderness and Tampa Bay. Empower ADVENTURES in Tampa Bay,  which is Trip Advisor 5-Star rated, offer 2-2,5-hour zip line adventures including 5 zip-lines and numerous aerial adventures such as suspension bridges.
#5 Mountain biking– For unbelievable trails, visit Alafia River State Park, just east of downtown, is one of the most favored off-road biking choices in Florida, offering more than 20 miles of single-track trails.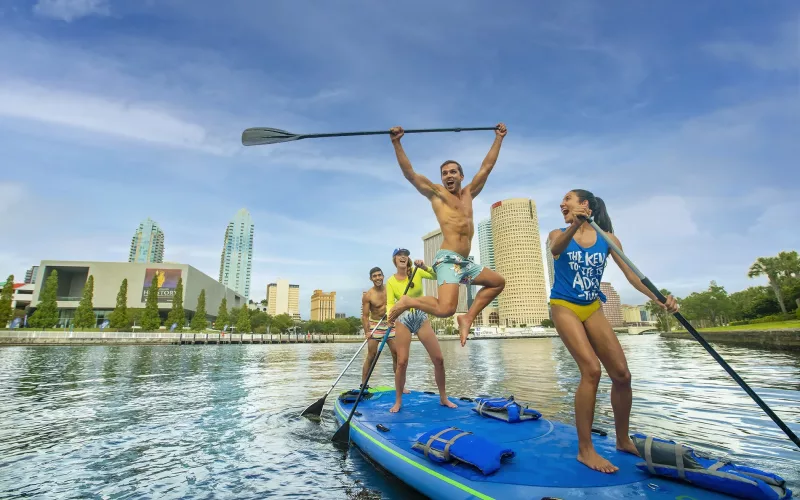 Call 020 3542 8888 to book a stay in Tampa Bay