Explore Our Florida Holidays
EXPLORE THE WIDE OPEN BEAUTY OF FLORIDA.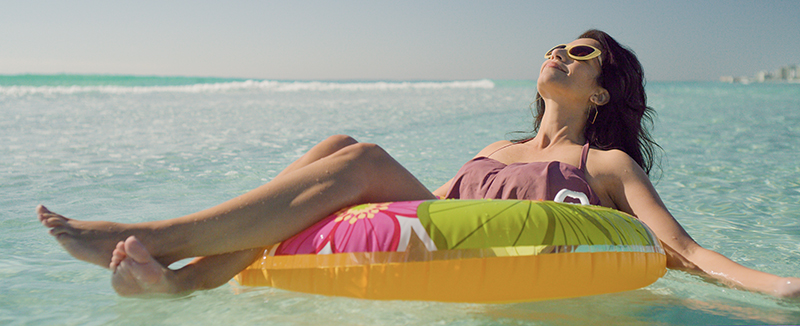 There's so much to explore with our Florida Holidays. Here it's best to plan out your time whether you want to stay in one place or tour the state. Gulf Coast beaches offer natural enclaves; miles of golden sand and warm balmy waters perfect for paddle-boarding and water activities whilst the Gold Coast is the place to surf with Atlantic Ocean breakers offering an exciting alternative. Orlando and Kissimmee is the main hub for theme parks and attractions whilst heading south brings you to serene beach resorts and the glittering world of Miami; time to get your razzle dazzle on! Keep travelling south for a blazing sunset at The Southernmost Point in Key West visiting the Florida Keys along the way, swim with Dolphins, go diving and basically enjoy the relaxed Caribbean-like vibe.
TRY THIS.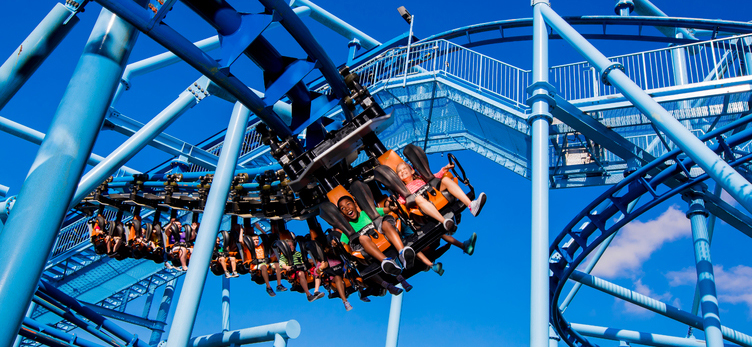 EXPERIENCE KISSIMMEE.
With an abundance of attractions in Kissimmee it can be a dilemma which to prioritise for those with FOMO so here's a few to put on your "must do" list.  Walt Disney World Resort® in Florida is constantly adding new thrills and experiences. Universal Orlando Resort features The Wizarding World of Harry Potter™ so buy your favourite wand and immerse yourself in a world of imagination. SeaWorld® Parks & Resorts™ Orlando and Discovery Cove are favourites too as are the many water parks; perfect days out for all ages.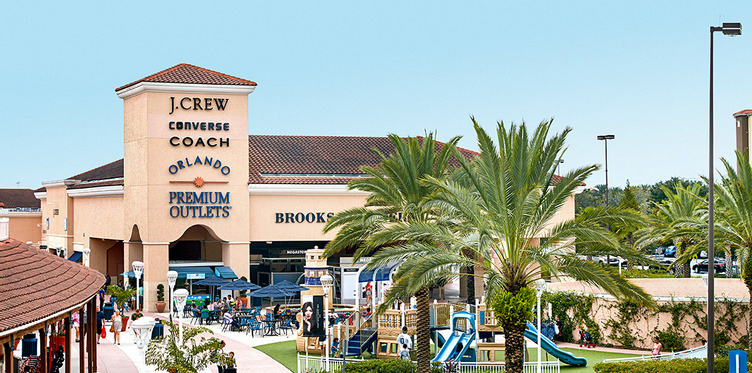 Probably the second most popular pastime is shopping with various outlets from discounted to premium designer. The Mall at Millenia is the place to find the top brands; it is a shopper's heaven. If you are looking for a bargain, then head to the Premium Outlets by Simon where you will find a wide variety of discounted designer clothing, sportswear and luxury goods. Disney Springs, Celebration Town Center, and Old Town Kissimmee offer a range of unique shops and are well worth a visit. It doesn't stop there; with museums, dinner shows, airboat rides, up-close-and-personal wildlife experiences and a whole lot more to keep you busy so make a list of your top ten and plan out your time carefully; a relaxing trip this isn't so maybe add on a few days at one of Florida's stunning beaches afterwards to recharge!
ESCAPE THE EVERYDAY.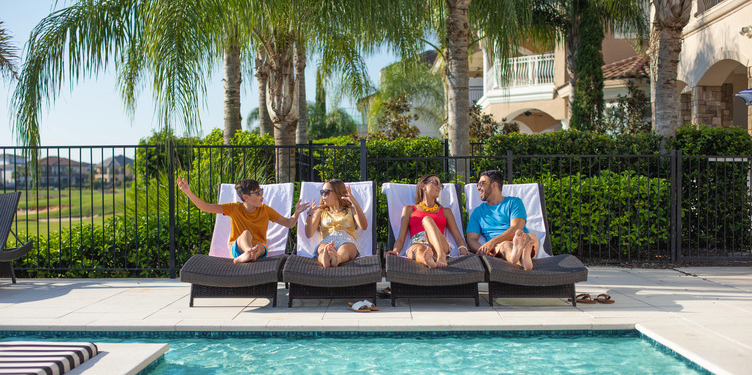 THE ULTIMATE KISSIMMEE, FLORIDA HOLIDAY.
Stay in a Villa and then add on a few nights in Kissimmee Hotel or Resort – or treat yourself and do all three. With so many options of where to stay when visiting Kissimmee why not mix it up and choose two or three different accommodations for the duration of your trip; this is a popular option as they say – variety is the spice of life! 
FOLLOW YOUR SUNSHINE.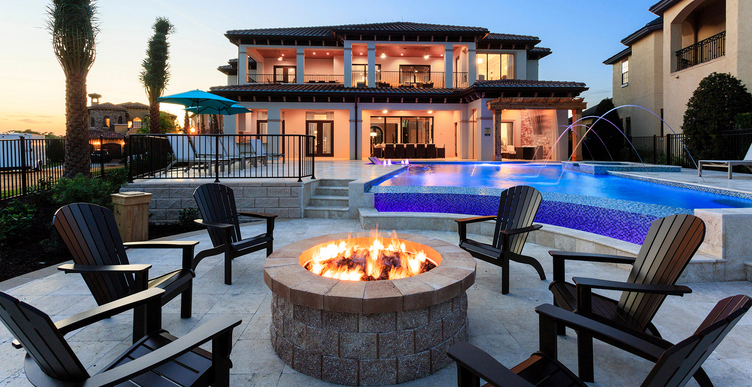 KISSIMMEE VILLAS.
There are simply dozens of benefits to staying in a villa when visiting Florida and a whole range of villas to choose from too. With something to fit all budgets and tastes the main benefit is space; oodles of it. Villas in Kissimmee are built with luxury living in mind and feature all the amenities to ensure a memorable stay from fully-fitted top-of-the-range kitchens to en-suite plush bedrooms and bathrooms, flat-screen TV's and complimentary Wi-Fi; all designed to provide a "wow factor" stay. The benefit of having your own sparkling pool and spa means cocktails under the stars, barbecues for lunch and morning coffee enjoyed serenely with your toes in the pool.  Many villas also feature a games room and the more high-end you go the more extravagant they are with the most upscale villas featuring anything from pool bars, bowling alleys and theatre-style cinema rooms to squash courts! Villa communities can be quiet or resort-style and gated or non-gated. Many villa communities feature resort-style swimming pools, tiki-bars, cinemas, gyms, sports courts and even water parks; there are a whole range of options to choose from. 
DISCOVER NEW HORIZONS.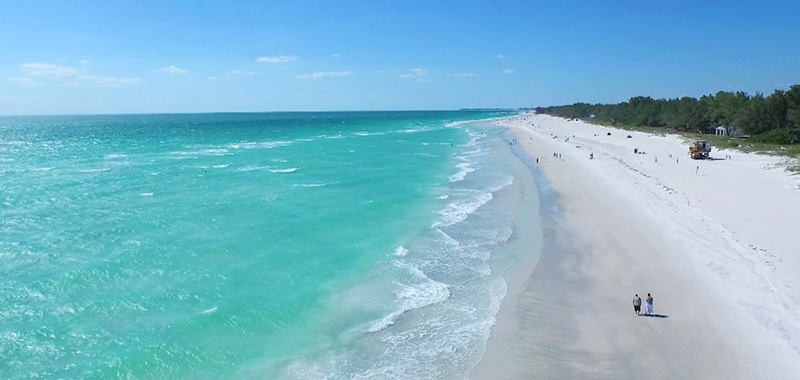 BRADENTON, ANNA MARIA ISLAND AND LONGBOAT KEY AREA.
Bradenton and Anna Maria Island are both Blue Wave-certified beaches with miles of soft white sand and calm, clear blue waters. There's plenty to see and do in Bradenton with family-friendly activities including Emerson Point Preserve, a 365 acre preserve at the mouth of the Manatee River; where you can learn about the native plants and wildlife of Florida. Visit historical sites or spend a day mountain biking, hiking or walking along many multi-use trails. The Florida Maritime Museum, Village of the Arts, Deo Soto National Memorial and LECOM Park are all great places to visit. Anna Maria Island is one of Florida's Gulf Coast barrier islands known for its immaculate beaches, galleries, shops and eateries. It's the place to visit for a laid back Caribbean-style retreat where relaxation is the focus and with nature on your doorstep; stunning. Longboat Key is simply picture-postcard-perfect with 12 miles of sandy beaches, crystal clear water of blues and greens, upscale shopping, golf courses and dining with delicious fresh seafood and sizzling steaks. A perfect choice for a peaceful break of beaches and beautiful surroundings.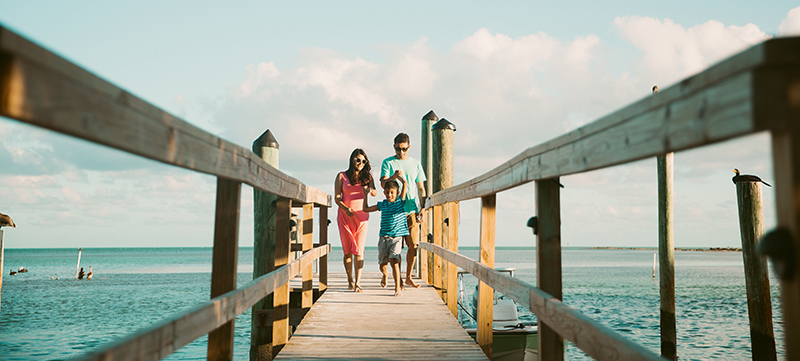 FORT MYERS – ISLANDS BEACHES AND NEIGHBORHOODS.
Florida is ladened with golden sandy beaches stretching as far as the eye can see from the calm waters of the Gulf coast to the rolling breakers over on the Gold coast.  Every Florida beach destination tells its own tale so it's worth researching before you travel and choosing the best to suit your needs. The Fort Myers area in Southwest Florida is made up of 100 islands strung along the Gulf of Mexico. The area is renowned for its laid back barefoot holiday destinations each offering visitors a different story, but drawn together by nature and the water. No visit to Fort Myers would be complete without discovering the islands, taking to the water and island hopping to experience the rich wildlife and flora that exists.
ST. PETE/CLEARWATER.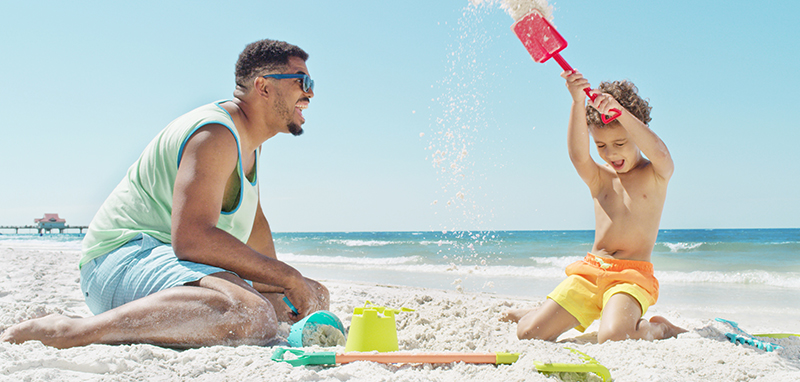 Clearwater and St. Pete's Beach are a popular add on to Kissimme stay and are an easy drive away. Clearwater Beach is stunning with crystal clear water, a popular pier, concerts and movie screenings on the beach and water sports. St. Pete's Beach has paddle trails and bicycle trails at Fort De Soto Park with 1000 plus acres to explore, also nesting grounds for a variety of birds and loggerhead turtles. Travel south and you will arrive at Sarasota and then Naples.
SARASOTA.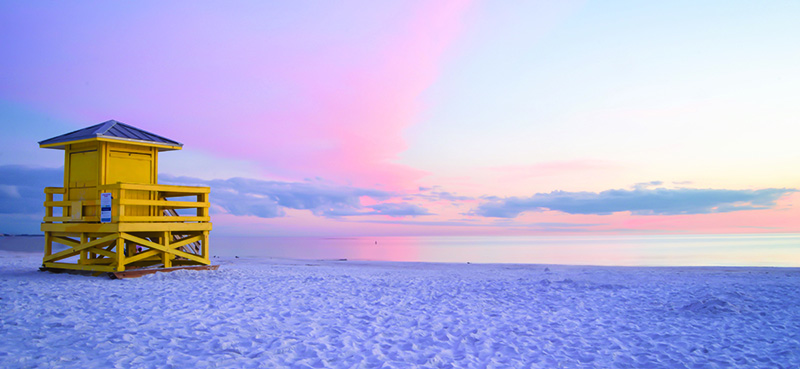 Award-winning white sandy beaches, jewel blue waters of the Gulf of Mexico and an eclectic variety of cultural activities make Sarasota the perfect escape for couples and families. The cities of Sarasota and Venice are on the mainland and the six beautiful barrier islands are easily reached by walking, car or bike! Many properties are located on or within a short walk to the beach and great shops and restaurants nearby. With year-round warmth and lush landscape Sarasota County is the perfect destination for exploring the great outdoors and connecting with nature –  head inland to Myakka River State Park – one of Florida's oldest and largest state parks. 
NAPLES, MARCO ISLAND AND THE EVERGLADES.


For your dream holiday 'only Paradise will do', a destination filled with sand and sophistication, rich culture, high-end shopping, 90 fabulous golf courses and more than 30 miles of powder white sand along the azure Gulf shoreline. The Everglades is home to a diverse and untouched ecosystem, a pristine wilderness and myriad of wildlife to explore on one of many guided tours. Renowned chefs have year-round access to locally grown ingredients with alfresco dining on your doorstep. Naples is a beautiful destination in southwest Florida and will leave an abundance of memories to cherish long after you leave.
THE FLORIDA KEYS.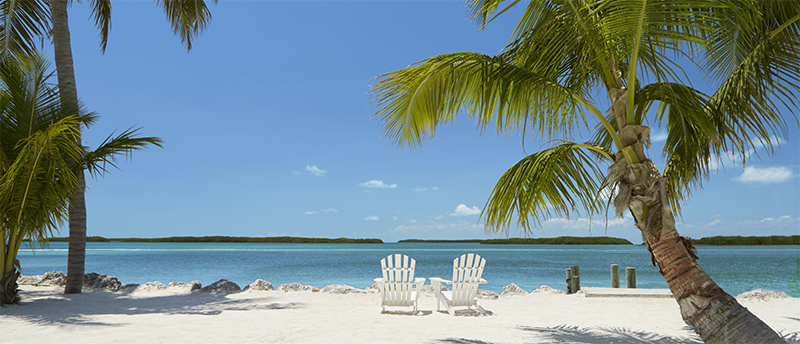 It's well worth the drive further south through the Florida Keys, over long bridges with ocean on either side and through tropical landscapes or catch the ferry straight down to Key West. Key West is home to the southernmost point in the United States and is one of the most sought after photo opportunities in Florida. The islands of the Florida Keys offer a range of activities for every age and interest whether you prefer action-packed water sports or relaxing on a sandy beach. Drive along the bridges that link the islands through lush trees with ocean along each side. Key Largo, known as the Dive Capitol of the World is the place to don the diving gear and get up close and personal with the sea life.
MIAMI.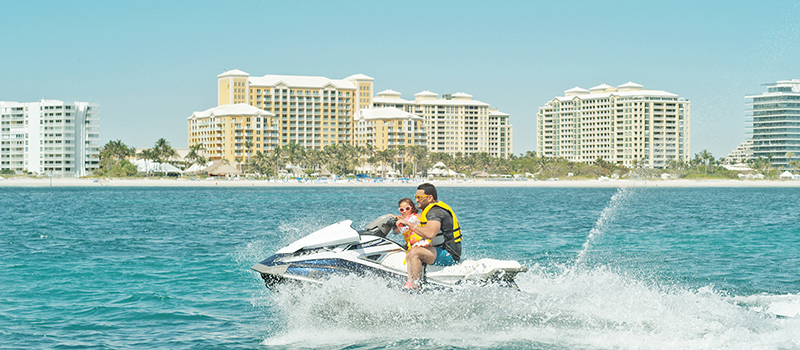 Zip across the state to the shores of South Beach, Miami where people watching is a favourite pastime; referred to as the "American Riviera". A playground for the young, beautiful and wealthy, South Beach is filled with exotic cocktails, contemporary clubs, shopping and a gorgeous beach; often good for celebrity spotting.
EXPERIENCE THE POWER OF A FLORIDA VACATION.