3 Amazing Theme Parks.
Universal's Islands of Adventure.   
Journey through legendary worlds of incredible heroes at Universal's Islands of Adventure. Here you'll feel the rush of the hunt as you ride the thrilling new roller coaster, the Jurassic World VelociCoaster, opened 10th June 2021, and you'll experience the magic and excitement of The Wizarding World of Harry Potter™ – Hogsmeade™ – where you can ride Hagrid's Magical Creatures Motorbike Adventure™. And, over at Marvel Super Hero Island®, don't miss the chance to meet Spider-Man, Captain America, Wolverine and more, and hang on with superhuman strength on the high-speed roller coaster rampage, The Incredible Hulk Coaster®.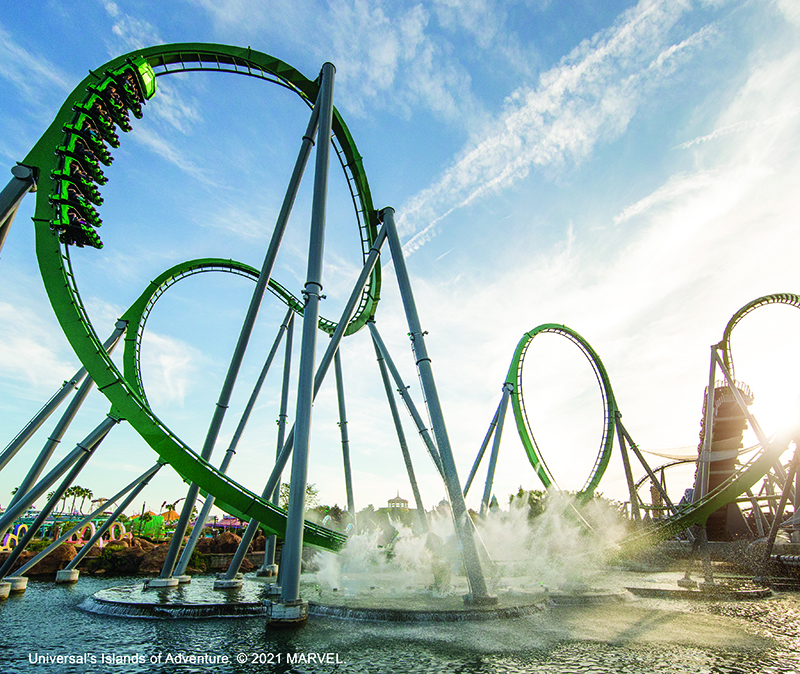 Universal Studios Florida.
Meet Illumination's mischievous Minions, join forces with the TRANSFORMERS, and crash through Krustyland with The Simpsons™ as you immerse yourself in the next generation of blockbuster entertainment. Experience the cutting-edge fusion of stagecraft and film at The Bourne Stuntacular, now open, and go inside the high-stakes world of Fast & Furious for a full-throttle experience. You'll also enter The Wizarding World of Harry Potter™ – Diagon Alley™, where you can visit shops like the Leaky Cauldron™, Weasleys' Wizard Wheezes, and Ollivanders™ wand shop. Experience the darker side of magic in Knockturn Alley, and then get ready for an adventure on the multi-dimensional thrill ride, Harry Potter and the Escape from Gringotts™.
Universal's Volcano Bay water theme park.
At Universal's Volcano Bay water theme park, you'll find a spectacular volcano towering over a sun swept beach with swaying palm trees. It's a South Seas oasis right in the heart of Universal. From thrilling water slides to secluded waterfalls, Volcano Bay is a water theme park like no other. Plus, the park's Virtual Line experience means you have the freedom to spend more time with your family in the park until it's your time to ride. Volcano Bay is the perfect place to get away from it all; a beach paradise you can enjoy without ever leaving Orlando.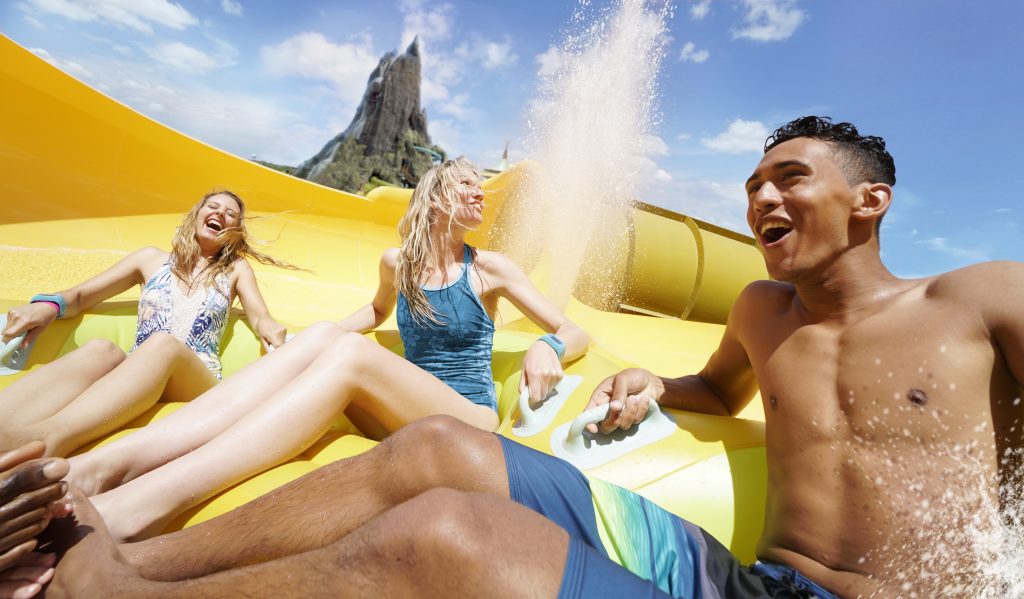 Universal CityWalk.
CityWalk is the resort's entertainment complex, where you'll find the best in dining and entertainment. There's everything from the one-of-a-kind collection of incredible themed restaurants, to mini-golf, a cinema, fantastic bars, shopping and more! It's the epicentre of all the fun and entertainment at Universal, and is the perfect way to spend your evening after a day in the theme parks.
Here are some of the highlights for all the food-lovers out there…
Delight your palate at The Toothsome Chocolate Emporium & Savory Feast Kitchen™, a fantastical restaurant, bar & confectionery. Sample the New Orleans inspired specialties of celebrity chef Emeril Lagasse, or enjoy a meal at the world's largest Hard Rock Cafe®. Try the unique burger/sushi fusion of The Cowfish® or kick back to the Floribbean fare of Jimmy Buffett's® Margaritaville®. Whether you want a quick bite after leaving the theme parks, an unforgettable family feast, a romantic dinner for two, or a late night snack, CityWalk™ is the one spot with everything you're craving.
Universal Orlando Hotels.
Only Universal Orlando's hotel guests get more ride time, more free time and more family time every day of their vacation. It couldn't be easier. Staying with Universal is the best way to experience all the destination has to offer. Every morning guests can breeze into one of Universal's Parks before other guests with Early Park Admission. With free water taxis and shuttles, it's a quick hop between the parks and the hotels. Guests of Universal's Premier hotels, including Loews Portofino Bay Hotel, Hard Rock Hotel® and Loews Royal Pacific Resort, can enjoy FREE Universal Express Unlimited access to skip the regular lines at some of the most popular attractions. You'll just need separate, valid admission to get into Universal's theme parks. Plus, there's more. From character appearances, family-dinner shows and world-renowned restaurants to resort-wide charging privileges and more, Universal Orlando's hotels come with more awesome every day.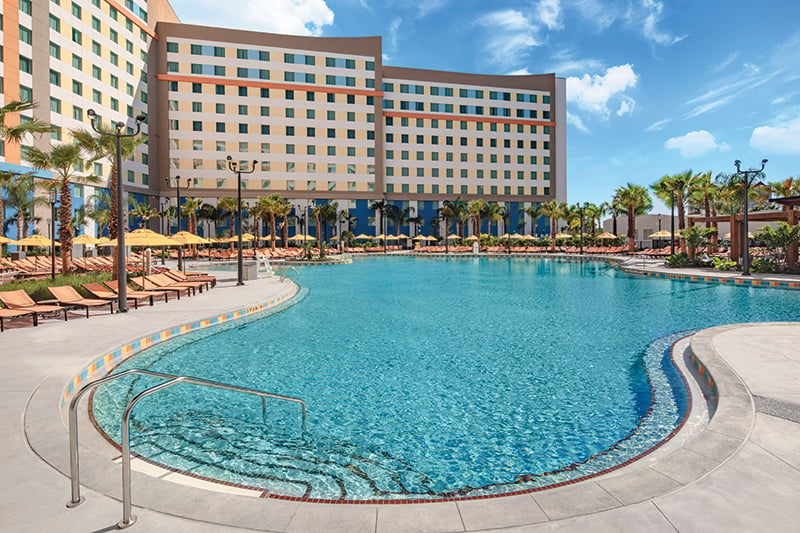 Universal's Endless Summer Resort – Dockside Inn and Suites – NOW OPEN.
Dockside Inn and Suites is the second hotel in the destination's Value category, joining sister property, Surfside Inn and Suites. The extra-affordable resort will add 2,050 guest rooms, featuring standard rooms and spacious 2-Bedroom Suites. Rates start as low as £79 per night – creating a value hotel experience that is unmatched in the Orlando area.
Brought to life by the award-winning Universal Creative team, Dockside Inn and Suites will make you feel like you've have escaped to the perfect sunset with the cool, calm feeling of a beach retreat. It's the destination's eighth property in partnership with Loews Hotels & Co, providing Universal Orlando guests with a variety of hotel options for every style and budget, complete with exclusive theme park benefits and a seamless vacation experience.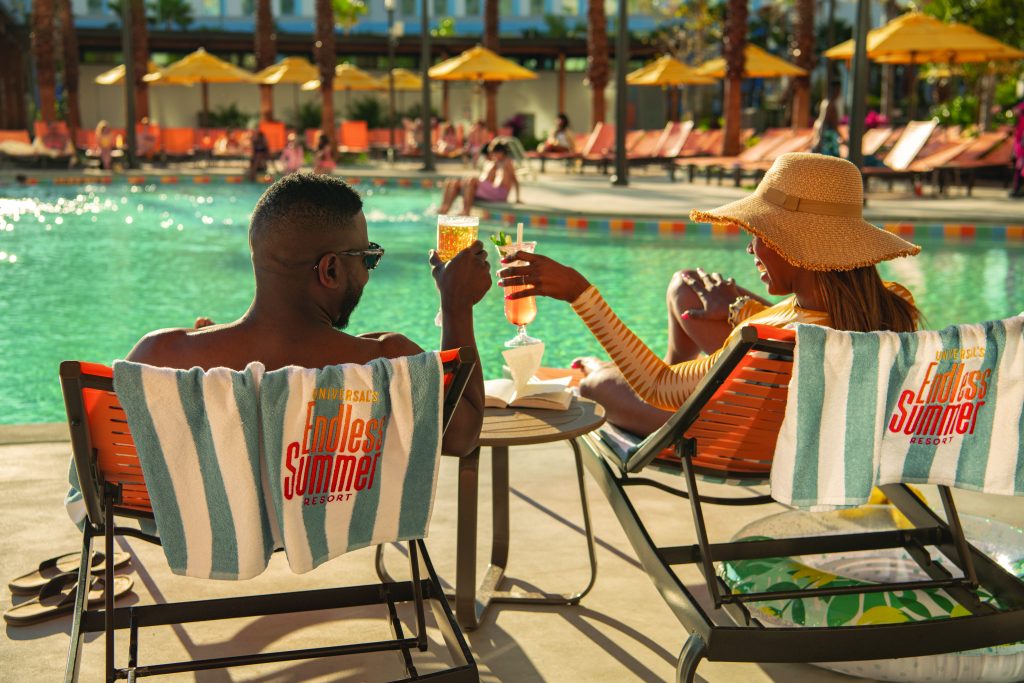 At Dockside Inn and Suites, you can experience all that the hotel and Universal Orlando have to offer, including:
2-Bedroom Suites – These suites, which make up more than half the rooms at both Dockside Inn and Suites & Surfside Inn and Suites, sleep up to six and offer guests an unrivaled value. With two separate rooms, families no longer need two connecting rooms for extra space. There is also a kitchenette area, a picnic table for meals and hanging out, and a bathroom with separate bath and vanity areas so multiple people can get ready at once. The 2-Bedroom Suites begin as low as £120 per night based on a four-night stay.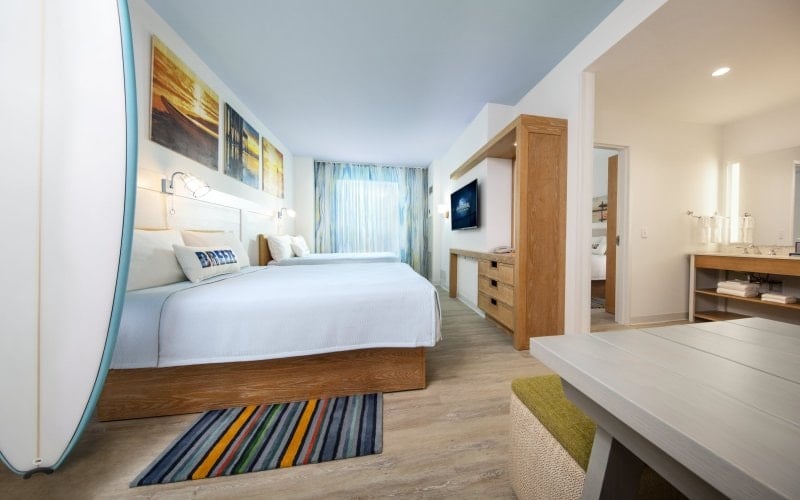 Exclusive Theme Park Benefits – Hotel guests receive exclusive benefits including Early Park Admission to the theme parks, complimentary and convenient shuttle bus transportation, charging privileges with their room key and more.
Pier 8 Market – The all-American Pier 8 Market offers casual dining for breakfast, lunch and dinner. The menu will feature extra-affordable options with most dishes under £12, ranging from themed comfort foods to convenient on-the-go options.
Awesome Amenities – The lobby bar, Sunset Lounge, serves specialty cocktails and is the perfect place to unwind after a day at the parks. The hotel will feature two pools and two pool bars as well as a Universal Orlando Vacation Planning Center, Universal Studios Store and more.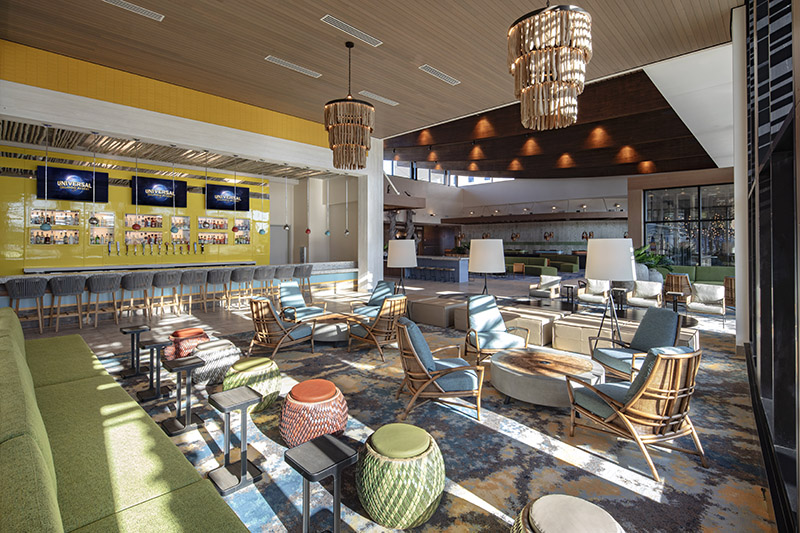 Highlight: JURASSIC WORLD VELOCICOASTER.
Florida's fastest and tallest launch coaster – along with a pack of fierce Velociraptors – was unleashed at Universal Orlando Resort in June 2021 with the debut of Jurassic World VelociCoaster. Concepted and designed by the award-winning Universal Creative team in partnership with acclaimed filmmakers from Universal Pictures and Amblin Entertainment, this new species of roller coaster touts a series of intense maneuvers that will send guests catapulting up to 70 mph and more than 150 feet in the air with the swiftest of prehistoric predators.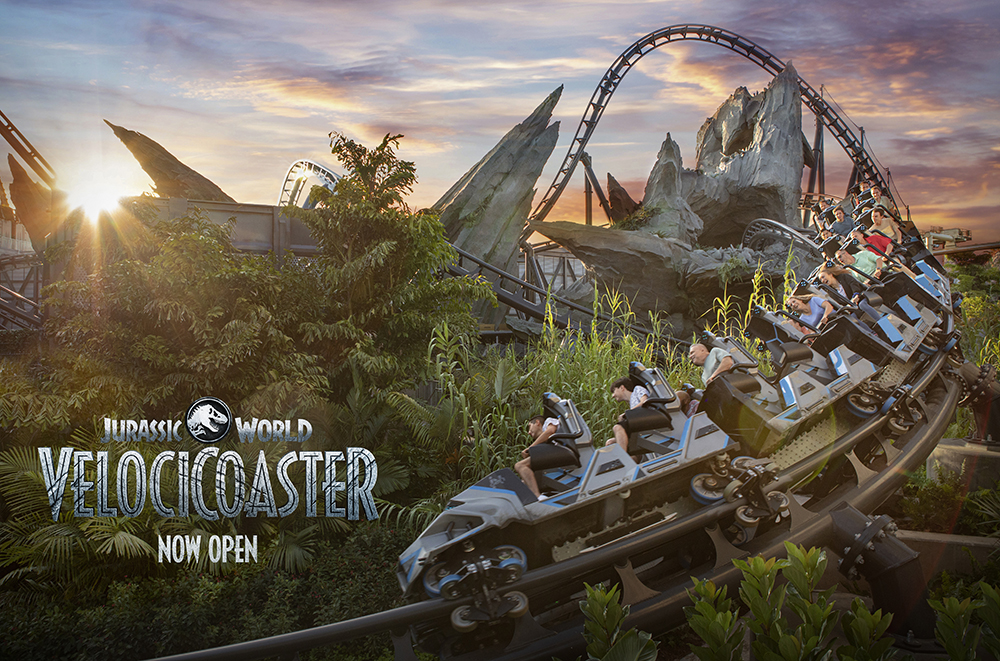 The Jurassic World VelociCoaster will raise the bar in extreme roller coaster design and become the ultimate experience for coaster enthusiasts and thrill-seekers. Spanning more than 4,700 feet of track and reaching heights of up to 155 feet, the coaster's signature maneuvers will have guests twisting and soaring above land, barrel rolling just inches above water, speeding through near-misses and launches within the paddock, and more…with just a lap restraint holding them in place. Get ready to:
Accelerate through two pulse-pounding launches, the fastest reaching 70 mph in 2.4 seconds
Encounter a one-of-a-kind, 360-degree barrel roll right above the Islands of Adventure lagoon
Experience a zero-gravity inverted stall that will send riders upside down across 100 feet of track in a jaw-dropping maneuver that is the first of its kind
Go airborne during the towering "Top Hat," which propels riders 155 feet in the air and then immediately into an 80 degree drop – Universal's steepest drop yet
Brace for a total of 12 heart-pounding seconds of airtime – the thrilling sensation of weightlessness riders feel when they're lifted from their seats – throughout the entire adventure.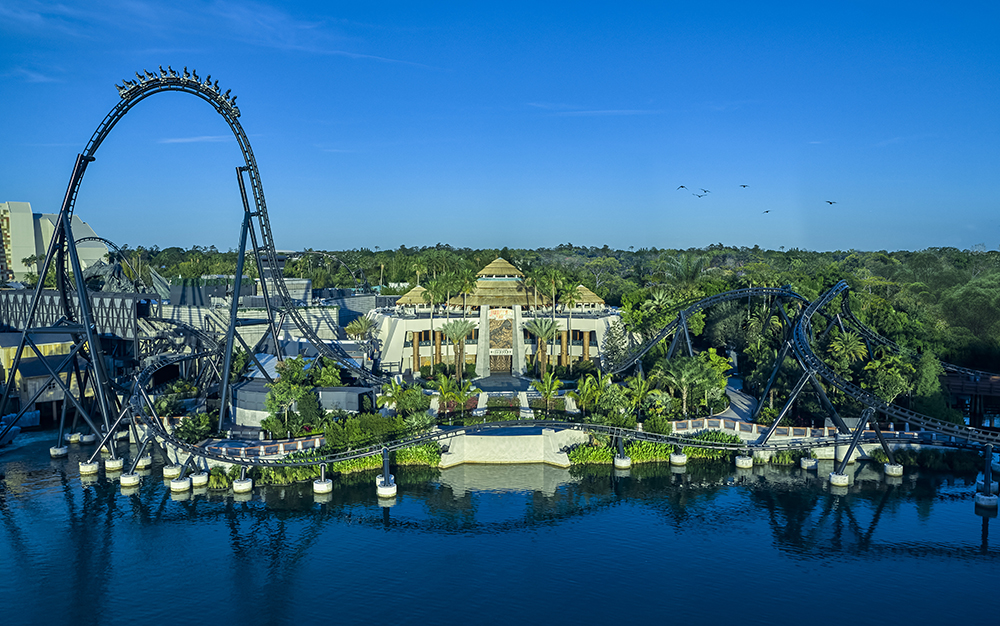 Jurassic World VelociCoaster is the next exciting addition to Jurassic Park at Universal's Islands of Adventure. Only in this immersive land can visitors come face-to-face with life-size dinosaurs in incredible theme park experiences, including Jurassic Park River Adventure, where a leisure raft ride turns into a daring eight-story plunge to escape a ferocious T. rex; and Raptor Encounter, where guests can test their bravery and get up-close to Velociraptor Blue and the newest additions to the paddock – baby raptors – while learning more about the clever carnivores. Guests can also satisfy their cravings with all-new delectable food items inspired by Isla Nublar.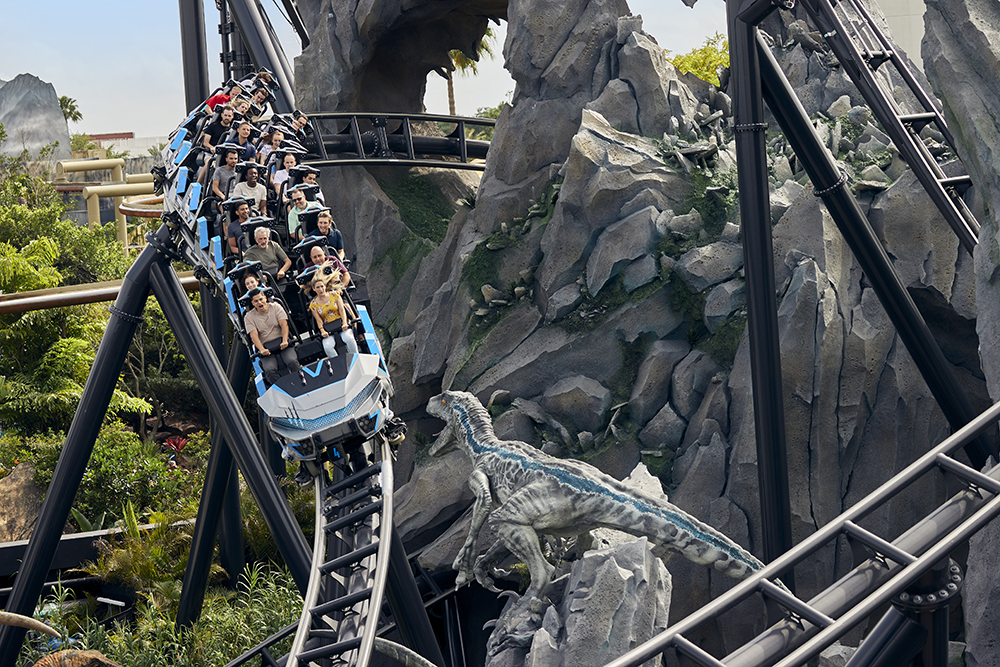 Highlight: THE BOURNE STUNTACULAR.
The Bourne Stuntacular, the most advanced live-action stunt show yet, is now open at Universal Studios Florida. Through the use of live performers, ground-breaking technology, extreme stunts and captivating practical effects, guests can now feel fully immersed in the world of Jason Bourne – blurring the lines between stage and cinema in a hybrid form of entertainment that has never been seen before.
The brand-new, live-action stunt show is inspired by Universal Pictures' blockbuster Bourne film franchise and delivers an all-new, original storyline that takes place within the Bourne universe. Plus, exclusively for The Bourne Stuntacular, Julia Stiles has reprised her role as Jason Bourne's main confidant in the franchise, Nicky Parsons, and Frank Marshall, award-winning director and producer, has worked closely with the Universal Orlando team to help create an authentic experience fans of the franchise can enjoy.
The Bourne Stuntacular introduces an all-new level of live entertainment, highlighted by:
The most advanced technology of its kind – such as automated vehicle tracking systems on moving set pieces, pinpoint-accurate projection mapping, ultra-vivid visuals and more – that brings the Bourne films to life in an all-new, visceral stunt show right in front of guests' eyes
 Next-level, extreme stunts executed by performers who trained for more than eight months with Hollywood's leading stunt experts from blockbuster film and television
Captivating practical effects that make guests feel like they are right by Jason Bourne's side through the use of fire, smoke, wind and more
Nicky Parsons, played by Julia Stiles, briefing and recruiting guests for the mission at hand, which is to keep an eye on Bourne to ensure he's not fooled by rogue double agents
An all-new storyline that follows the character of Jason Bourne as he travels across three continents and the cities of Tangier, Washington, D.C. and Dubai to uncover classified information while trying to evade danger and capture at every turn
Actual props, images and clips from the films – including the car from the iconic chase scene in The Bourne Identity, and Jason's go-to form of transportation in The Bourne Ultimatum, his motorcycle – that pay homage to the Bourne films as guests walk through the queue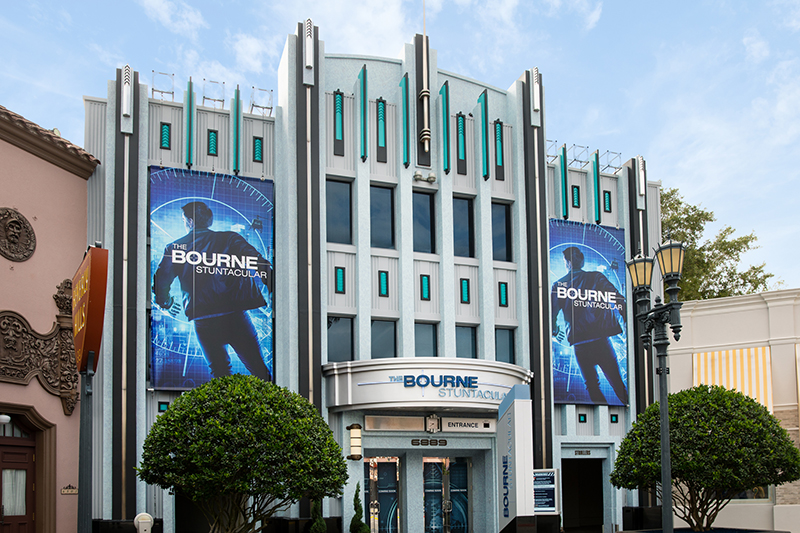 Some of our travelplanners Sales Team were lucky enough to visit Universal Orlando Resort where they managed to check out the Theme Parks and Hotels.  See below recommendations and tips from the team.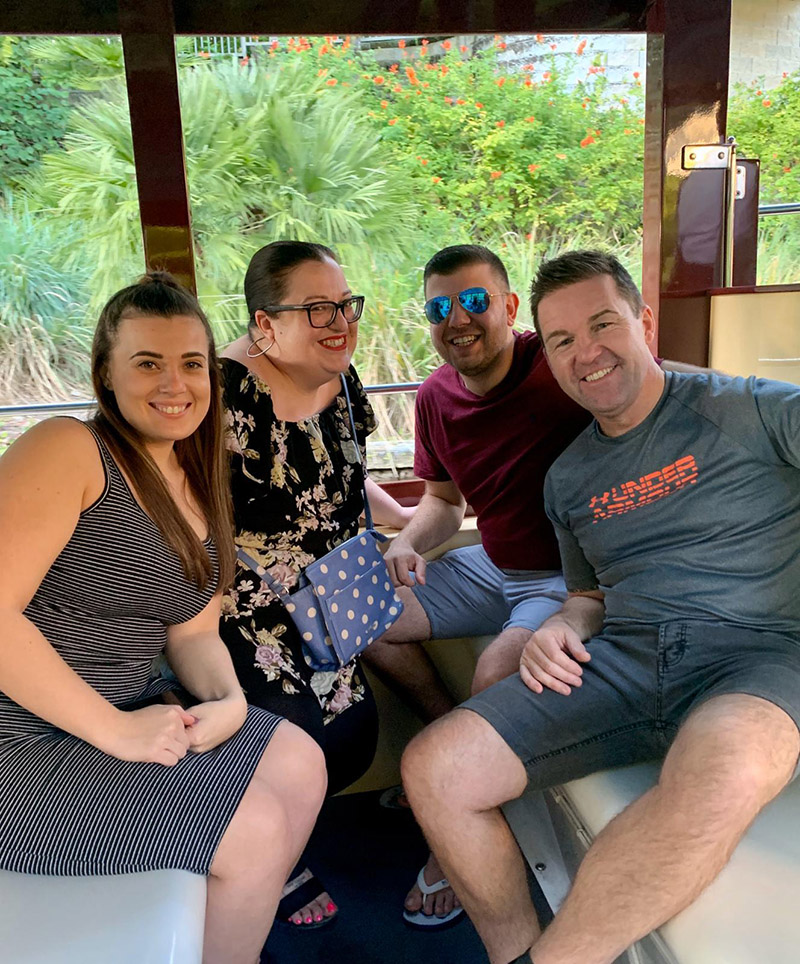 Jorden
My favourite part of Universal is all the little hidden extras and their attention to detail, every park you go into isn't a just a theme park, it feels so immersive, you feel you are in the movies.
In 2021 It's all about the brand new Jurassic World VelociCoaster, it's is going to be one of the most exciting new rides in the whole of Orlando. It's fast, it's scary and is going to blow your socks off so what are you waiting for.
Don't forget to go to Olivanders and grab your wand! The wands are interactive with different parts of Diagon Alley and Hogsmeade, with a swish of a wand you can make the windows displays dance, release the pixies and even make the shrunken heads sing! And after all that, make sure you head over to Springfield – The Home of The Simpsons – and grab a Krusty Burger…they are the best!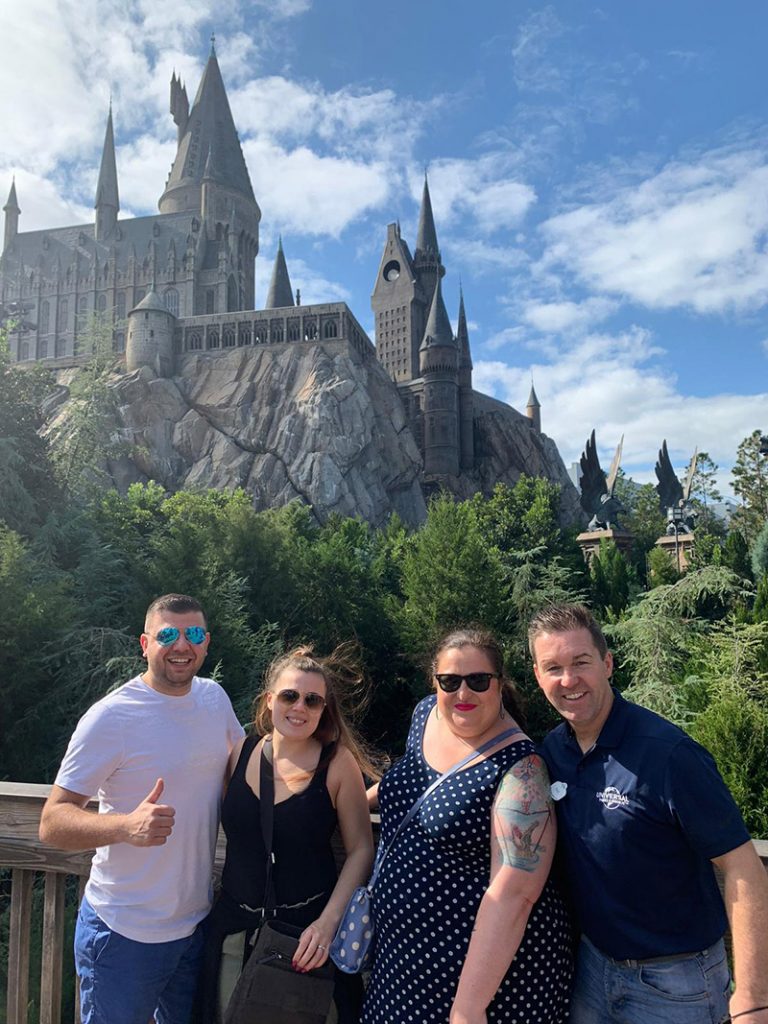 Zac
Favourite part of the trip was staying in a Universal hotel. I could spend a week in a Universal hotel and not leave. It is simply stunning to be a Universal hotel guest. From Early Entrance to The Wizarding World of Harry Potter and express passes in a deluxe hotel , a boat ride to the parks, listening to a live band on the waterfront at CityWalk, a cocktail at the roof top bar at Aventura or a Volcano view room at Cabana Bay, it was just out of this world.
A must see without fail is walking into Diagon Alley and immersing into the Wizarding World of Harry Potter the whole experience blew me away. From the fire breathing dragon at Gringotts or a wand fitting at Olivanders! You feel like you have had the call up from JK Rowling herself! Don't miss out on the Ko'okiri Body Plunge at Volcano Bay – the 70 degree drop through a trap door and 125 feet of white-knuckle fun!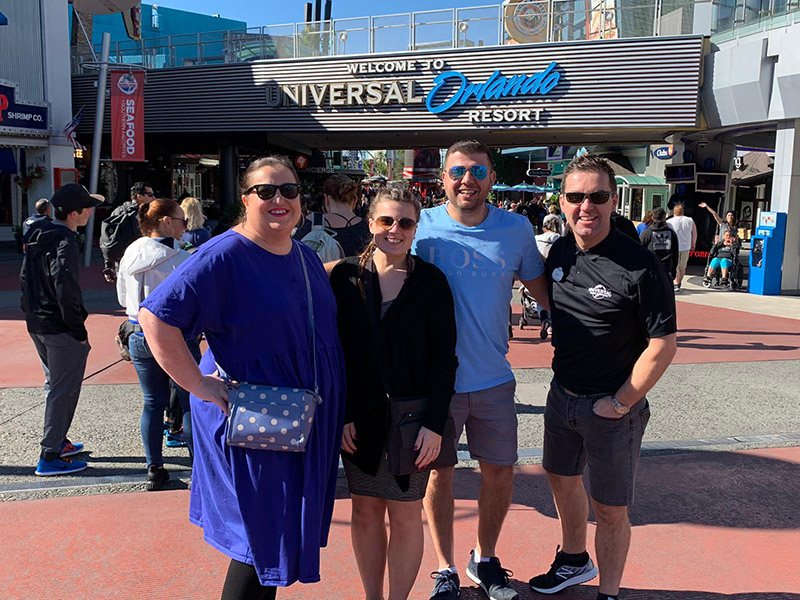 If you are looking for some recommendations on where best to stay for you and when to visit then feel free to give the team a call on 020 3542 8888.